Almond Cookies
by Editorial Staff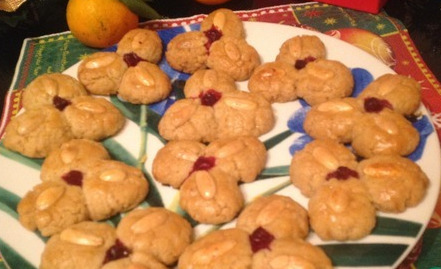 Delicious cookies with almond taste and cinnamon aroma. Without a doubt, it will become a decoration of the New Year's table! Help yourself!
Ingredients
Almond flour (or ground almonds, if not available, replace with regular flour) – 90 g
Wheat flour / Flour – 90 g
Cane sugar (TM Mistral) – 75 g
Butter (or margarine) – 100 g
Baking dough – 1/2 teaspoon.
Soda – 1/2 teaspoon.
Cinnamon – 1/2 teaspoon
Lemon zest – 1 teaspoon
Salt – 1 pinch.
Almonds (whole kernels, peeled) – to taste
Egg yolk (for lubrication) – 1 piece
Cranberry (or cherry) – to taste
Directions
Pour Demerara cane sugar into a coffee grinder.
And grind it into powder.
Sift both types of flour, in the absence of almond, replace it with the same amount of wheat. Add grated lemon zest, cinnamon, salt, baking soda, and baking powder.
Mix dry ingredients well.
Add melted butter or margarine.
Knead well and roll the dough into a ball. If the dough does not connect well, add a little liquid (cold water, milk, kefir, etc.)
Wrap the dough in plastic wrap and refrigerate for at least 30 minutes.
Pinch off pieces weighing 8-10 grams from the dough, roll up a ball, and put three balls together on a lightly greased baking sheet. We press an almond nut into each bun.
Lubricate the cookies with egg yolk, whipped with a little water, and decorate the center of the flower with a berry. We bake in an oven preheated to 180 degrees for 20-30 minutes.
Bon Appetit!
Also Like
Comments for "Almond Cookies"