Carrot Cookies with Oatmeal
by Editorial Staff
If you love experimenting with baking, you will surely love Carrot Oatmeal Cookies. With a crispy sugar crust and soft inside – this cookie will appeal to all sweet tooths.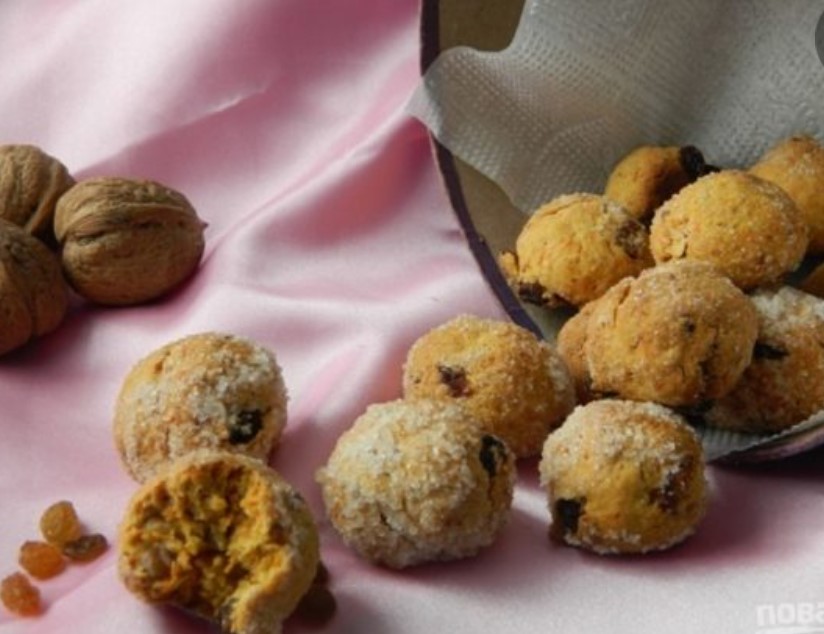 Cook: 1 hour
Servings: 2-3
Ingredients
Oatmeal – 1/2 Cup
Carrots – 1-2 Pieces
Wheat flour – 80 grams
Nuts – 1-2 Art. spoons
Raisins – 1-2 Art. spoons
Honey – 1 Art. the spoon
Baking powder – 1/4 teaspoon
Sugar – 1-2 tbsp
Olive Oil – 30 Milliliters
Directions
Let's prepare the necessary set of products for cookies.

Carrots must be peeled and grated on a fine grater.
Then in a bowl, mix the washed and dried raisins, chopped nuts, honey, carrots and olive oil.
Then add the oatmeal and mix everything.
This mass must be left for about 30 minutes to soften the flakes.
After 30 minutes, add the sifted flour and baking powder to the mass.
Knead the sticky dough. We divide it into parts. I ended up with 16 small pieces. You can make the cookies bigger.
Roll a ball from each piece of dough
Roll the ball in sugar and put on a baking sheet covered with parchment. We send the baking sheet to the oven, preheated to 180 degrees.

Bake small biscuits for 15 minutes and large ones for about 20 minutes.
Bon appetit!
Also Like
Comments for "Carrot Cookies with Oatmeal"