Apple Muffins
by Editorial Staff
Recipe for making wheat flour muffins with apples, cinnamon and yogurt.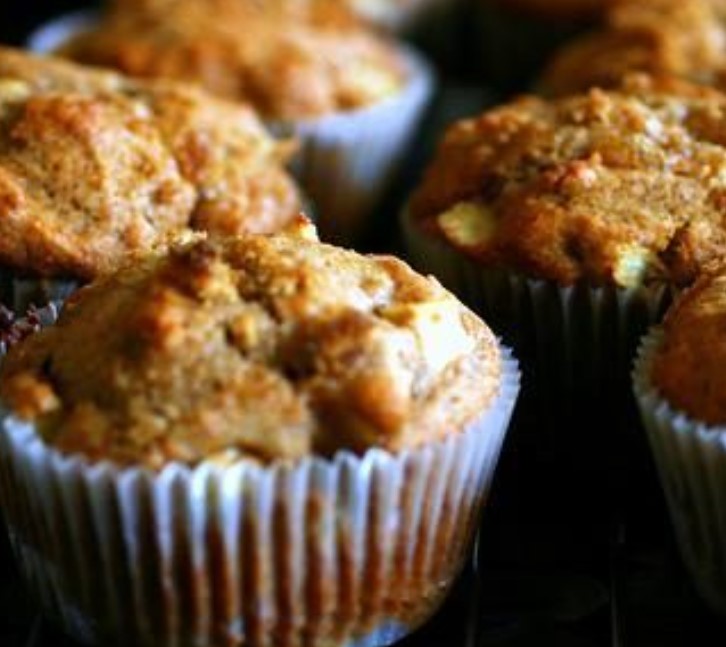 Cook: 35 mins
Servings: 4-6
Ingredients
Baking powder – 1 teaspoon
Soda – 1 Teaspoon
Salt – 1/4 Teaspoon
Cinnamon – 1 Tbsp. the spoon
Egg – 1 Piece (large)
Apples – 2 Pieces
Whole Grain Flour – 1 Cup
Wheat flour – 1 Glass
Butter – 115 Grams
Sugar – 100 Grams
Brown Sugar – 95 Grams
Yogurt – 230 Grams
Directions
Peel and core the apples and chop coarsely. Preheat oven to 230 degrees. Grease an 18-compartment muffin tin and dust lightly with flour, shaking off excess. Set aside.
Combine flour, baking powder, baking soda, salt and cinnamon in a bowl and set aside. In a separate bowl, beat the butter with an electric mixer, add sugar and 1/4 cup brown sugar. Beat until creamy. Add the egg and mix well, scraping off any residue from the sides of the bowl. Add buttermilk (or yogurt) and stir gently. Do not stir the mixture too long and too vigorously – this can cause the buttermilk to curdle. Add flour mixture and chopped apples, mix gently.
Divide the dough evenly among the prepared sections of the mold, sprinkle the remaining 1/4 cup of brown sugar on top.

Bake muffins for 10 minutes, then reduce heat to 200 degrees and bake for another 5 to 10 minutes, until a toothpick inserted in the center comes out clean.
Let the muffins cool in the mold for 5 minutes, then remove them from the mold on the wire rack until they are completely cooled.
Bon appetit!
Also Like
Comments for "Apple Muffins"