Beef Stew with Sun-Dried Tomatoes
by Editorial Staff
Sun-dried tomatoes will add a rich taste to stewed meat if you add them when stewing. If desired, you can add spices, spices, and serve boiled pasta, porridge or baked vegetables as a side dish.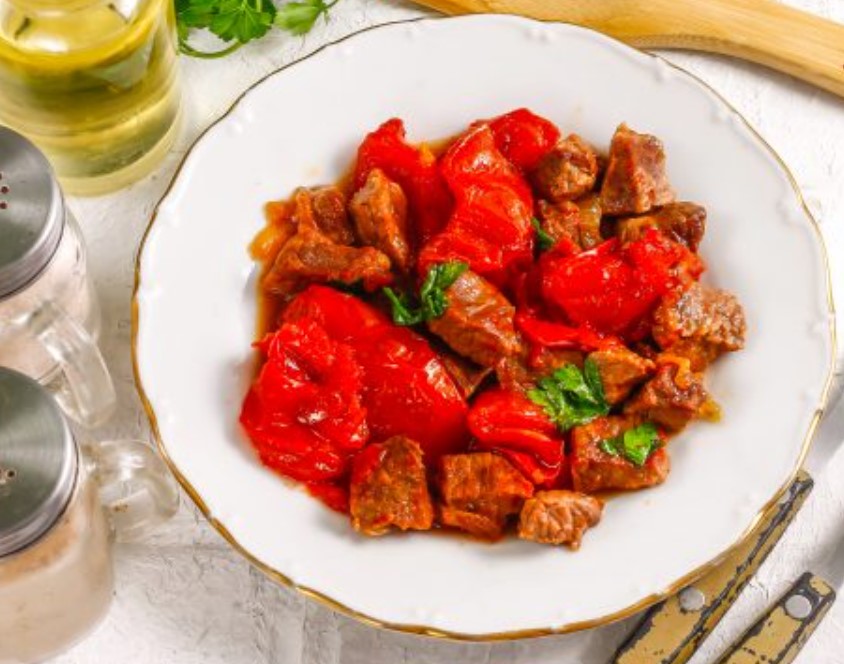 Cook: 45 mins
Servings: 1-2
Ingredients
Beef – 300 Grams (pulp)
Sun-dried tomatoes – 100 Grams
Onion – 1 Piece (small)
Vegetable oil – 1.5 Art. spoons
Salt – 2 Pinches
Ground black pepper – 1 Pinch
Parsley – 2-3 Pieces (stem)
Hot water – 500 Milliliters
Directions
Prepare the indicated ingredients. Use minimal fat, boneless beef.

Peel and wash onions, cut into half rings. Pour vegetable oil into a cauldron or container with a non-stick bottom, put onion slices and fry for about 2-3 minutes.
As soon as the cuts are golden brown, but not burnt, add the beef.
Rinse the meat and cut into portions. The finer the slicing, the faster it will stew. Add to container.
Saute the beef with the meat for about 2-3 minutes so that the pieces of meat "seal" the meat juice inside.
Pour in hot water and simmer the meat for about 40 minutes on moderate heat.
The meat will be ready when there is very little water left in the container.

At this time, add sun-dried tomatoes to the meat. You can add a little aromatic oil and spices from a jar of such a product, but be sure to taste them with salt to know how much salt to add to the dish. Season the meat and add chopped parsley or other fresh herbs to taste.
Put out literally 1-2 minutes and turn off the heating.
Place the beef stew on plates and serve. It is especially tasty with mashed potatoes.
Bon appetit!
Also Like
Comments for "Beef Stew with Sun-Dried Tomatoes"