Blueberry Cakes
by Editorial Staff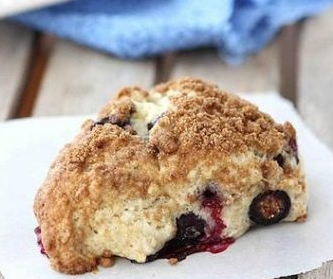 Recipe for making tortillas with fresh blueberries, vanilla extract and a sprinkle of brown sugar, wheat flour and cinnamon
Cook: 25 mins
Serving: 8
Ingredients
Flour – 2 Glasses
Baking powder – 2 teaspoons
Salt – 1/8 Teaspoon
Chilled butter – 6 Art. spoons
Egg – 1 Piece
Vanilla Extract – 1 1/2 Teaspoons
Wheat flour – 1/4 Cup (topping)
Cinnamon – 2 Teaspoons (sprinkled)
Butter – 2 Tbsp. spoons (sprinkling)
Directions
In a large bowl, combine flour, sugar, baking powder and salt. Cut the butter into pieces and add to the flour mixture. Stir until the mixture looks like crumbs.
Put the blueberries and mix gently, being careful not to damage the berries.
In a measuring cup, beat eggs, milk and vanilla extract. Add egg mixture to dry ingredients and stir with a fork until smooth. If desired, at this stage, you can add finely grated lemon zest to the dough.

Place the dough on a lightly floured surface and knead 5 or 6 times. Form a disk from the dough. Brush with a little milk on top. You can choose not to do this if you want a lower-calorie baked goods.
Sprinkle the dough with sprinkles prepared by mixing all the ingredients. Cut the dough into 8 triangles.

Bake the cakes in an oven preheated to 200 degrees for 18-20 minutes on a baking sheet lined with parchment.
Bon appetit!
Also Like
Comments for "Blueberry Cakes"