Bread without Milk and Eggs
by Editorial Staff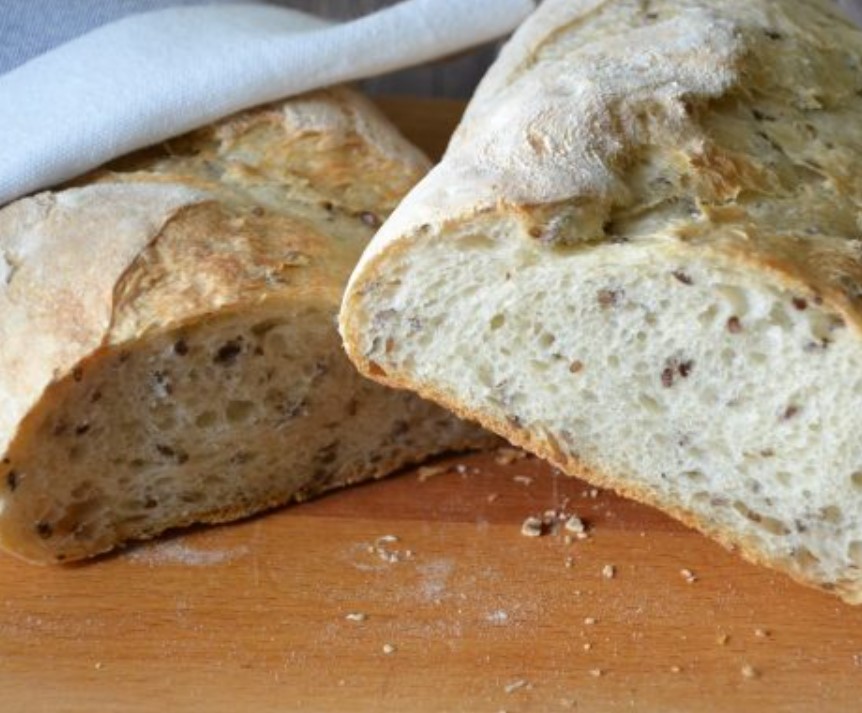 The recipe for this bread without milk and eggs was verified by me literally to the gram, because I bake it almost every other day. It always works for everyone, I share my own recipe.
Cook: 12 hour
Ingredients
Wheat flour – 320 grams (bakery, premium)
Water – 270 Milliliters
Salt – 1 Teaspoon
Sugar – 1 Teaspoon
Flax seeds – 1
Yeast – 2 Grams (fresh)
Sourdough – 70 Grams (I have "Levito Madre")
Directions
Prepare your ingredients. It is best to start the process in the evening.

Pour water into a container for kneading dough, add salt, sugar, sourdough. Stir, you can do it with your hand, wearing a glove.
Mix flour with flaxseed.
Knead the dough.
Three times, at intervals of 30 minutes, knead the dough using the "stretch and fold" method.
After kneading, cover the dough with plastic wrap and refrigerate overnight. In the morning, the dough looks like this.
Dust the work surface of the table with flour, lay out the dough.
Stretch the dough lengthwise, turn one edge towards the center, press lightly.
Turn it up completely, pinch the "seam", roll it up.
Place the piece on a baking sheet, seam side down, proof for 1 hour, then make 2-3 cuts with a sharp knife or razor blade.

Bake the first 10 minutes at a maximum temperature of 220-240 degrees with steam, which can be provided by placing a frying pan with water in the bottom of the oven, then drop the temperature and bake for 40-50 minutes at a temperature of 150-180 degrees. Cool the finished bread slightly on a wire rack.
The bread prepared according to this recipe turns out to be aromatic, crunchy, porous, and very tasty.
Bon appetit!
Also Like
Comments for "Bread without Milk and Eggs"