Broken Glass Cake
by Editorial Staff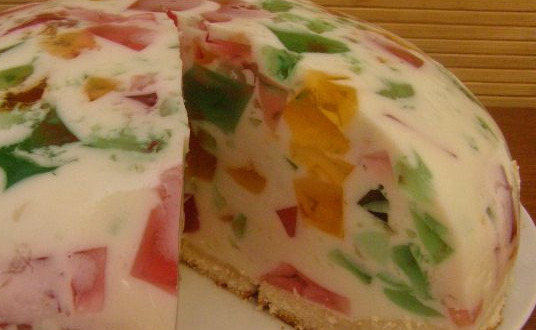 Cake "Broken glass" – a delicious and cute jelly cake made from sour cream.
Cook: 10 hour
Servings: 8
Ingredients
Sour cream – 500 g
Sugar – 200 g
Instant gelatin – 25 g
Jelly (different colors) – 3 sachets of 90 g
Sponge cakes or biscuit cakes (ready-made) – approx. 170-200 g
Directions
Let's make the jelly. I took the purchased one, in bags, and diluted it in hot water (water is half as much as indicated on the package). (You can make jelly from natural juices – the taste will be brighter.)

When the jelly hardens (in the refrigerator after 4-5 hours, I left it overnight), cut it into cubes of arbitrary sizes and mix.
Beat the sour cream with sugar. It is necessary that the sugar is completely dissolved. Then we dilute the gelatin in a small amount of hot water (3-5 tablespoon. L.) And mix it with sour cream.
I highly recommend covering the form with cling film! I didn't … I was worn out when I took out the cake. Pour fruit jelly into a mold (23 cm in diameter), fill it with sour cream. I did not fill the cubes all at once, but in portions, I thought it would be more even.

I don't know how to bake a biscuit, so I took ready-made two-layer biscuit cakes (3 pcs. 55 g each), divided them into layers, and laid them tightly on top of the liquid jelly. Then cover with plastic wrap and put the jelly cake in the refrigerator.
When the jelly froze, I tried to pull it out, but it turned out that this is still a task! Thanks to the Internet)) and the hostess who suggested how this can be done. In order to get the jelly out of the mold, I turned it over onto a suitable plate-dish and heated it on all sides with a hairdryer.
Enjoy your meal!
Also Like
Comments for "Broken Glass Cake"