Bruschetta with Strawberries and Basil
by Editorial Staff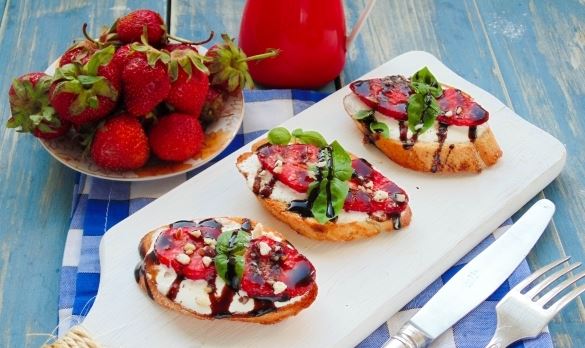 Tired of boring breakfast sandwiches ?! I suggest you take a moment and enjoy the wonderful taste of fresh strawberries by preparing delicious, juicy, and bright bruschetta with strawberry slices, basil, nuts, and balsamic cream.
Cook: 10 minutes
Ingredients
White bread – 200-300 g
Olive oil to taste
Strawberry – 200 g
Greek yogurt – 150 g
Basil – to taste
Balsamic cream – to taste
Nuts to taste
Directions
For the strawberry basil bruschetta, prepare the ingredients as listed. Any nuts can be used, and yogurt can be substituted for cream cheese or even sour cream.
Cut the bread into slices about 1 cm thick.
Sprinkle the slices of bread with olive oil and place in an oven preheated to 200-220 degrees or in a dry frying pan for a few minutes. We want the slices to brown and crisp, then we get a very pleasant contrast between the crispy base and the juicy filling.

Meanwhile, wash the strawberries, remove the sepals, and cut them into slices. Also, prepare the basil leaves and yogurt. I love the combination of hot bread and cool toppings, and I always chill yogurt or sour cream very hard by placing it in the freezer for 5-10 minutes.
Apply a layer of yogurt, sour cream, or cream cheese to hot slices of bread.
Arrange the strawberry slices and basil leaves.

The final touch is to sprinkle the bruschetta with balsamic cream and sprinkle with a pinch of chopped nuts. Balsamic cream can be made at home by boiling balsamic vinegar. To do this, measure out the required amount of balsamic vinegar. Bring to a boil and boil 1/3 or 1/2 of the original volume
Also Like
Comments for "Bruschetta with Strawberries and Basil"