Cake Pops "Red Velvet"
by Editorial Staff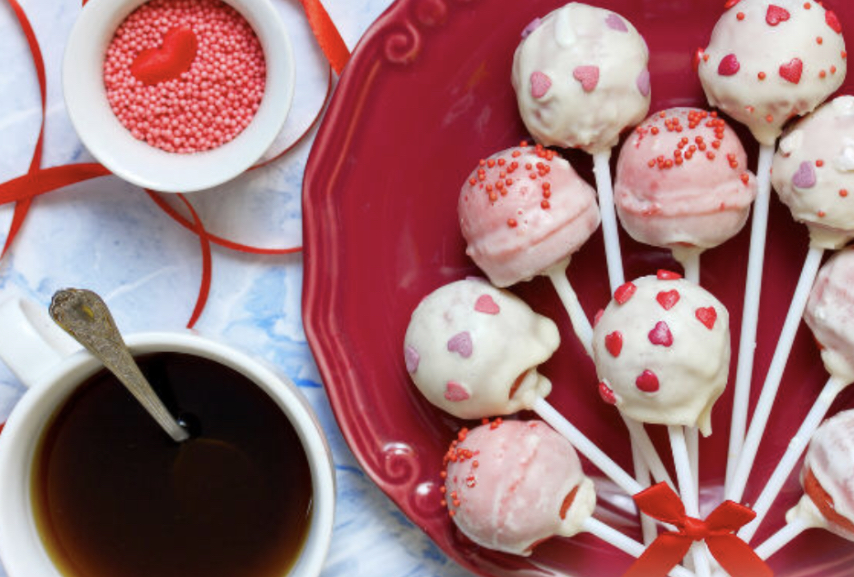 Cake Pops are chocolate-covered sponge dough balls on a stick. I suggest you prepare a bright red cake pops in white chocolate – small "Red Velvet" cakes.
Ingredients
Flour – 80 g
Eggs – 2 pcs.
Butter – 50 g
Sugar – 80 g
Baking powder – 1 teaspoon
Gel red food coloring – 5-6 drops
White chocolate – 100 g
Cream 10% fat – 20 ml
Confectionery dressing – 1 tbsp
Directions
Prepare all the ingredients needed to make the Red Velvet Cake Pops.
In addition to products, you will need a special baking dish for cake pops and sticks for decorating dessert.
In a bowl, combine softened butter and sugar. Beat the butter and sugar with a mixer for about a minute.
Add two eggs and beat well again.
Sift wheat flour into the resulting mass and add a teaspoon of baking powder. Mix the ingredients again with a mixer at low speed.
Add red food coloring to the dough. It is better to use a gel one – it is easy to dose and the dough is colored more evenly.
Stir the dough until it is evenly colored using a mixer at low speed.
Transfer the dough to a pastry bag.
Now spread the dough, cutting off the end of the pastry bag, into the holes of the cake pop baking dish. There will be 20 balls in total. You can also spread the dough with a teaspoon, but it is much more convenient to dispense from a pastry bag.

Cover the mold with the other half. Preheat the oven to 180 degrees.
Bake the cake pops for 25 minutes, then remove from the oven, open the pan and let the balls cool in the pan.
Trim the cooled balls if necessary.
Melt the white chocolate and cream in the microwave.
Dipsticks for cake pops one by one in melted chocolate, then insert into balls. Leave the cake pops until the chocolate hardens and the sticks are securely fixed.
Reheat the white chocolate melted earlier. Gently dip the balls on sticks into it and set them so that the chocolate hardens (I liked the idea of ​​placing cake pops on sticks in an apple). If desired, the cake pops can be dipped in chocolate not once, but several times to make the chocolate layer thicker.
While the chocolate is still fresh, sprinkle the cake pops with confectionery sprinkles.
Leave the cake pops until the chocolate has solidified.
These are the bright cake pops "Red Velvet".
Enjoy your meal!
Also Like
Comments for "Cake Pops "Red Velvet""