Canape "Herring on a Fur Coat"
by Editorial Staff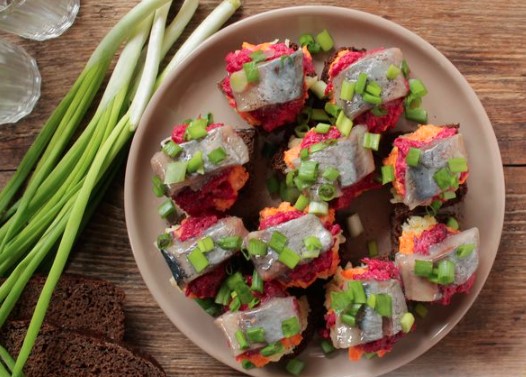 For holidays, buffets, and parties, it is convenient to serve miniature sandwiches for one bite – canapes. A slice of dark bread, layers of boiled potatoes, carrots, and beets, on top – a slice of herring and a fragrant green onion! The perfect snack for a festive table!
Cook: 1 hour 30 mins
Ingredients
Lightly salted herring – 120 g
Beets – 100 g (1 pcs.)
Carrots – 100 g (1 pcs.)
Potatoes – 100 g (1-2 pcs.)
Green onion – 3-4 feathers
Rye bread – 200 g
Mayonnaise – 40 g
Salt to taste
Ground black pepper – to taste
Directions
Put the vegetables in a saucepan, cover with water and boil until tender. For potatoes and carrots, about 20-30 minutes is usually enough. Beets are dense root vegetables, so they can cook much longer about 40-60 minutes. Remove the finished vegetables from the broth, cool, and peel.
Grate the peeled vegetables on a medium grater, arrange them in different bowls. Add mayonnaise and black pepper to each bowl. Stir.

Rye bread will form the basis of herring canapes. Cut the bread into small squares about 2 cm aside. Clean the herring from skin and bones. Cut the herring fillets into slices slightly smaller than the size of the bread pieces.
Chop the green onion finely. Now collect the canapes. Lay some potatoes, carrots, and beets on top of the bread. Top with a slice of herring and sprinkle generously with chopped juicy green onions.

Serve Canapes "Herring on a Fur Coat" to the table. Bon Appetit!
Also Like
Comments for "Canape "Herring on a Fur Coat""