Canapes with Herring "Fire"
by Editorial Staff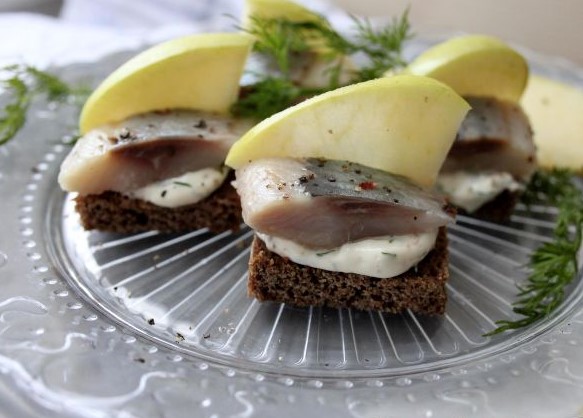 Unusually tasty and incredibly simple canapes with herring in a special marinade, apples, and aromatic sauce. You have never tasted such sandwiches.
Ingredients
Black bread – 90 g
Lightly salted herring (fillet) – 180 g
Sweet and sour apple – 40 g
Lemon juice – 10 ml
Vodka – 25 ml
Sugar – 5 g
Black peppercorns – 2 g
For the sauce:
Mayonnaise (light) – 50 g
Fresh dill – 5 g
Coriander seeds – 3 g
Directions
Cut the herring fillet into small pieces up to 1.5 cm. Put the pieces of herring in one bowl and in the other mix the vodka, sugar, and crushed pepper. Season the herring with marinade, cover with foil, put in the refrigerator for marinating for 3 hours.

Cut off the crust from the bread, cut each piece into four parts. For the sauce, add finely chopped dill and coriander, calcined in a dry frying pan and grated in a mortar, to light mayonnaise. Let's mix everything.

Cut the apples into neat slices, sprinkle with lemon juice. Let's take the herring out of the refrigerator and put it together with an apple: a slice of bread, a little sauce, a slice of herring, and an apple slice. Herring canapes are ready. You can decorate the appetizer with herbs. Bon Appetit!
Also Like
Comments for "Canapes with Herring "Fire""