Canape with Herring and Tomato Oil
by Editorial Staff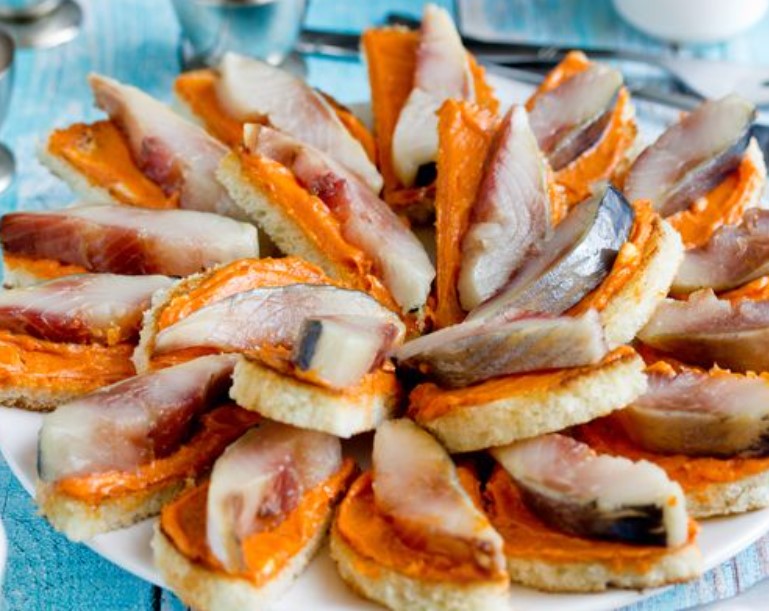 I am sharing with you my favorite canapé recipe – with tomato oil and pieces of salted herring on crispy toasted bread. These herring canapes not only look beautiful due to the bright color of the creamy spread – they have an original taste that you would not expect from familiar products at all. Recommend!
Cook: 20 mins
Servings: 4
Ingredients
Salted herring fillet – 130 g
Baton – 1/2 pc. (8-10 pieces)
Butter – 50 g
Tomato paste – 1 tbsp
Sunflower oil – 2-3 tbsp
Ground black pepper – to taste
Directions
Prepare food for canapes with herring and tomato oil.

Cut the loaf or bread into thin slices (I got 10 pieces). For convenience, it is better to take an already cut loaf. From the pieces, cut out blanks for future canapes with a round cookie cutter, trimming unnecessary crusts (they can be used to make homemade bread crumbs, drying and chopping).
Heat a small amount of sunflower oil in a frying pan and fry the loaf pieces on both sides until golden brown. Transfer the fried loaf slices to a plate and let cool.
To prepare tomato oil, combine soft butter with tomato paste and black ground pepper. (We don't add salt.)
Stir the butter and tomato paste until a smooth paste is obtained.
Grease the fried pieces of loaf with tomato oil on one side.
Cut each piece in half to make 20 canapes.

Cut the salted herring fillet without skin and bones into thin pieces.
Place the pieces of herring on the tomato oil croutons.
Place the prepared herring canapes on a serving platter.
Canapes with herring and tomato oil are ready! Keep the canapes in the refrigerator before serving, but it will still be best to serve them immediately after cooking, while the croutons are crispy.
Bon Appetit!
Also Like
Comments for "Canape with Herring and Tomato Oil"