Carrot and Curd Cake
by Editorial Staff
The yeast-free cake according to this recipe turns out to be soft and very aromatic. For its preparation, the dough is kneaded with the addition of cottage cheese and carrots. It is thanks to these ingredients that the cake-cake turns out to be very tasty and original in the context. Prepare a carrot and curd cake, and the Easter holiday will take on new colors.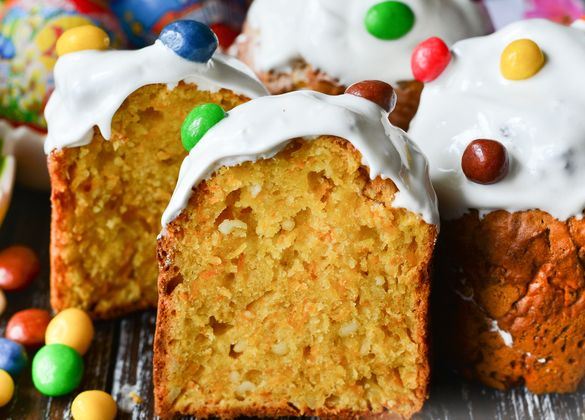 Cook: 50 mins
Servings: 3
Ingredients
Flour – 200 g
Cottage cheese – 180 g
Carrots – 160 g
Eggs – 3 pcs.
Butter – 50 g
Sugar – 100 g
Soda – 1 teaspoon
Lemon juice – 1 tbsp
Salt – 0.5 teaspoon
Vanillin – 1 sachet
Powdered sugar (for glaze) – 2 tbsp
Dragee "Sea Pebbles" or confectionery sprinkles (for decoration)
Directions
Let's prepare the necessary ingredients. Peel and wash the carrots. Turn on the oven to heat up to 180 degrees.
Melt the butter (in the microwave for about 1 minute at maximum power).
Grate carrots on a fine grater.

Separate one egg white from the yolk. Leave the egg white for the glaze. Combine 2 eggs and 1 yolk in a separate bowl.
Put the cottage cheese in a deep bowl. Add salt and sugar.
Using an ordinary fork, knead the cottage cheese well.
Beat eggs well with a whisk.
Add beaten eggs to the curd. Let's mix.

Add melted butter. Mix again.
Now let's add vanillin.
We extinguish the soda with lemon juice and add to the bowl as well. Let's mix.
Add the sifted flour. Mix the curd dough. Now put the grated carrots in the dough. And again mix the carrot and curd dough.
Lubricate the cakes (9 cm in diameter) with any oil or lay out the bottom and sides with parchment paper.
Put the dough in molds, filling them a little more than half.
We send the carrot and curd cakes to the oven, preheated to 180 degrees, for about 25-30 minutes. Check the readiness of the cakes with a wooden skewer (it must be dry). Leave the curd cakes to cool.
Let's prepare the icing for the cakes. Beat the egg white with a mixer for 20 seconds.
Add powdered sugar to the beaten egg white. Beat the white glaze for 2 minutes. Lubricate the cooled cakes with protein glaze. Decorate with multi-colored dragee candies or confectionery sprinkles.
Also Like
Comments for "Carrot and Curd Cake"