Casserole from Dumplings with Cabbage, in Kefir and Egg Filling
by Editorial Staff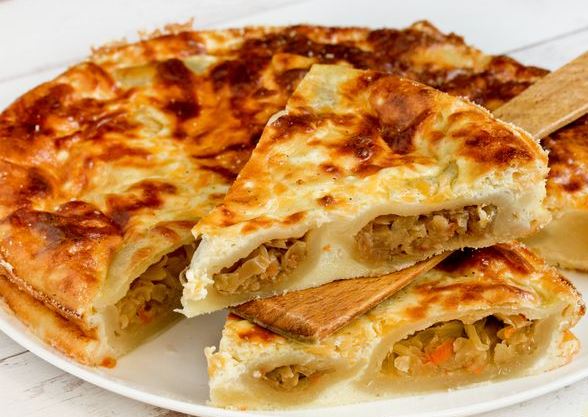 Ready frozen dumplings can not only be boiled, but also taken as a basis for making an unusual casserole. The casserole of dumplings in the kefir-egg filling, although it belongs to "lazy" dishes, it turns out to be very tasty!
Cook: 15 minutes
Servings: 4
Ingredients
Dumplings with cabbage (frozen semi-finished product) – 500 g
Hard cheese – 100 g
Kefir – 250 ml
Eggs – 3 pcs.
Salt to taste
Ground black pepper – to taste
To prepare the form:
Vegetable oil – 1/2 tbsp
Semolina – 1.5 tbsp
Directions
Prepare all ingredients. According to this recipe, a casserole of dumplings with cabbage is prepared, but it will be no less tasty if you take dumplings with a different filling.
Turn on the oven in advance to preheat to a temperature of 200 degrees.
Break the eggs into a bowl. Add kefir, salt, and black pepper to the eggs. Grate hard cheese on a coarse grater.

Grease a baking dish (24 cm in diameter) with vegetable oil and sprinkle with semolina.
Put the frozen dumplings in one layer in the prepared dish. Fill the dumplings with grated cheese. And fill with the egg-kefir mixture.

Cook the dumplings casserole in the oven at 200 degrees for about 20 minutes. Then lower the temperature to 180 degrees and continue baking for about 25 minutes.
Remove the prepared casserole from the mold and transfer it to a plate.
Cut the warm dumplings casserole into portions and serve.
Enjoy your meal!
Also Like
Comments for "Casserole from Dumplings with Cabbage, in Kefir and Egg Filling"