Cheese Mini Donuts
by Editorial Staff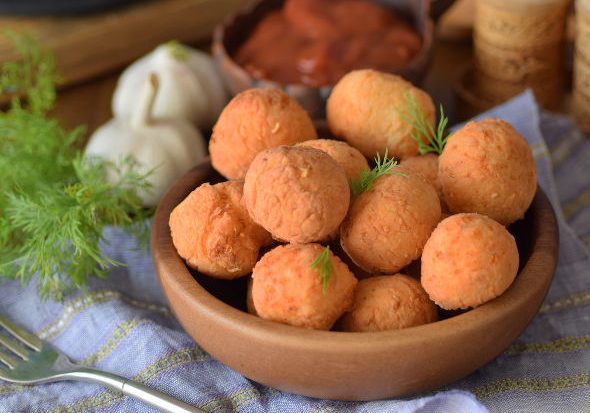 The delicious cheese donuts will help you pass the time between meals. They are unsweetened, have a pronounced cheesy taste, crisp and tender crumb inside.
Ingredients
Hard cheese – 40 g
Sour milk cheese – 180 g
Eggs – 1 pcs.
Salt to taste
Flour – 4-5 tbsp
Baking powder – 1/3 teaspoon.
Vegetable oil (for deep fat) – 300 ml
Directions
Grate curd cheese on a fine grater.
Grind hard cheese in the same way.
Combine both types of crushed cheese in a deep bowl.
Sift flour for them. Add baking powder. Let's beat in an egg. Salt to taste. (You may need a little more flour than indicated in the recipe, depending on the moisture content of the cheeses. Our goal: to get a soft dough that does not stick to your fingers. We went exactly four tablespoons of flour.)
Knead the cheese dough.
Sprinkle flour on the work surface. Let's roll a flat "sausage" with a diameter of 5-6 cm. For convenience, we made two.
Cut into equal pieces with a knife. The workpieces can be shaped into balls with your fingers.
Pour a generous amount of oil into a saucepan. There should be enough oil to cover the future cheese donuts completely when frying. It took us 300 ml. Put the saucepan with butter on the fire. Adjust the flame level between the average value and the lowest. Let's wait for the oil to warm up well and carefully layout several blanks. We will turn them over regularly with a wooden spatula so that frying occurs evenly. We control the degree of readiness by an appetizing golden crust.
We catch the finished donuts with cheese one by one with a slotted spoon and immediately serve. We got 16 donuts in total.
Bon Appetit!
Also Like
Comments for "Cheese Mini Donuts"