Mini Donuts with Yogurt
by Editorial Staff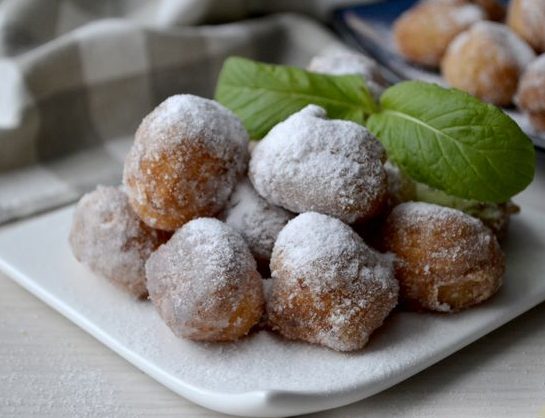 Yogurt mini donuts are a delicious sweet treat that doesn't require an oven to make. Donuts are fried in vegetable oil. Donut dough is made from just three ingredients – natural yogurt, flour, and baking powder. Use a piping bag to get the tiny donuts you want.
Ingredients
Natural yogurt, no additives – 190 g
Flour – 140 g
Baking powder – 1.5 teaspoon
Vegetable oil for frying – 300 ml
Powdered sugar (for sprinkling donuts) – 4 tbsp
Directions
Prepare the food you need. Greek or Turkish yogurt is best for donuts. The main thing is that the yogurt is unflavored.
Sift flour and baking powder into a bowl. Stir.
Add yogurt.
Stir the dough until smooth.
Transfer the dough to a pastry bag.
Cut off the end of the pastry bag.
Pour vegetable oil into a high-sided skillet or stewpan and heat. It will take 4-5 minutes for the oil to heat well.
Squeeze the dough out of a pastry bag over a saucepan, carefully cut off a small portion of the dough with scissors and send it to hot vegetable oil.
The dough pieces should be roughly the same so that they cook evenly.
Fry each donut for 2 minutes, stirring constantly. Donuts should be fried on all sides until golden brown.
Use a slotted spoon to scoop out the donuts and place them on a paper towel to remove any excess oil. Let the donuts cool.
Pour the icing sugar into a deep container.
Send the cooled donuts to the icing sugar.
Toss the donuts with powdered sugar until they are evenly coated.
Serve donuts to the table. Little donuts, one bite! They will be perfectly complemented by a cup of fresh tea.
Bon Appetit!
Also Like
Comments for "Mini Donuts with Yogurt"