Chicken Fillet and Vegetable Kebabs
by Editorial Staff
An easy way to make delicious chicken fillet and vegetable kebab.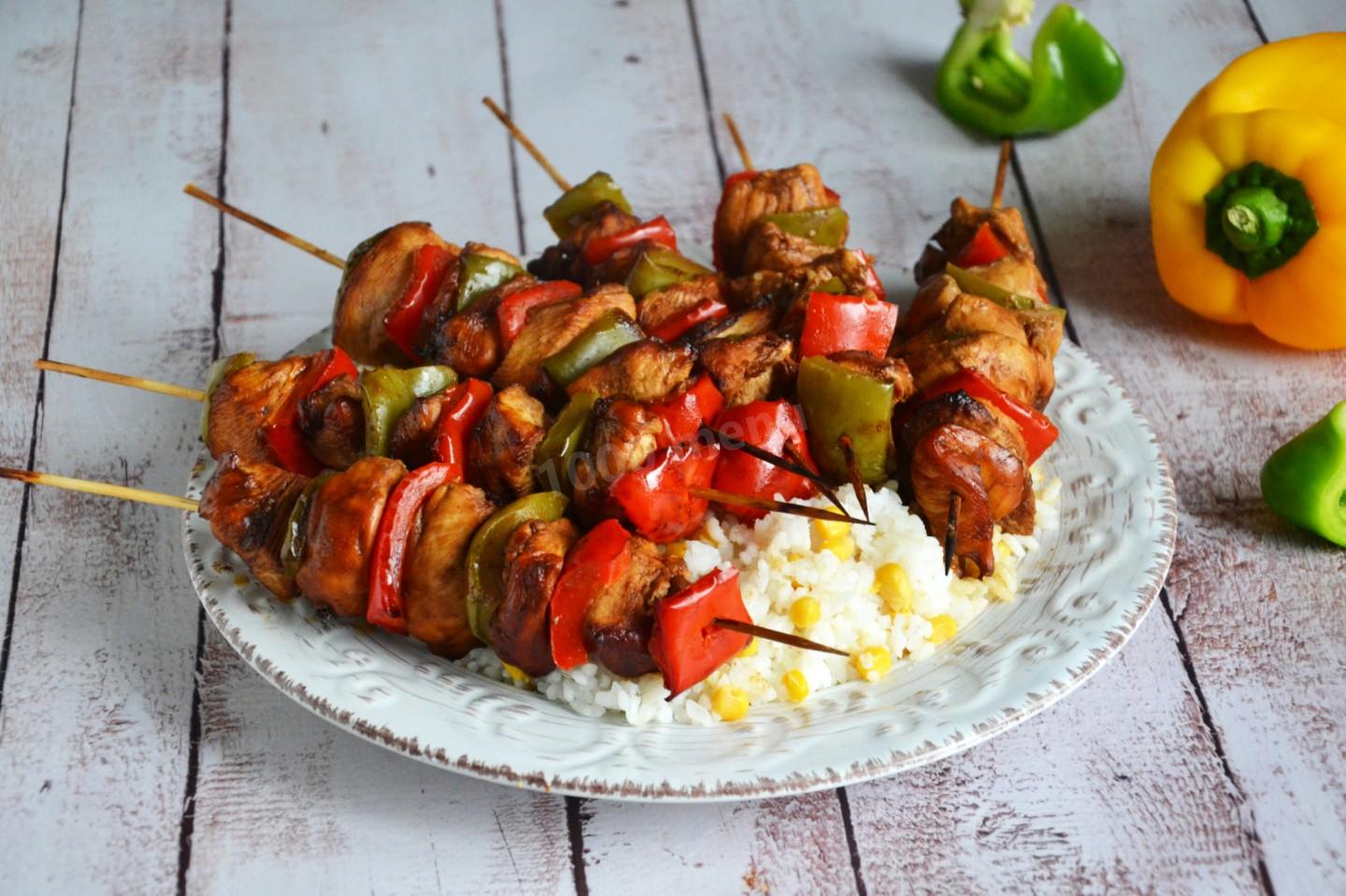 Servings: 6
Ingredients
Olive oil – 1/4 cup
Fresh lemon juice – 3 tbsp
White wine vinegar – 1 tbsp
Garlic (chopped) – 2 cloves
Lemon zest (chopped) – 2 teaspoon
Salt – 1 teaspoon
Sugar – 1/2 teaspoon.
Dried oregano – 1/4 teaspoon
Ground black pepper – 1/4 teaspoon.
Skinless chicken fillet (cut into 3 cm cubes) – 700 g
Medium zucchini (cut into 3 cm pieces) – 3 pcs.
Medium-sized onions (cut into slices) – 3 pcs.
Cherry tomatoes – 12 pcs.
Boiled rice for garnish (optional)
Directions
Combine olive oil, lemon juice, vinegar, garlic, lemon zest, salt, sugar, oregano and black pepper in a bowl. Reserve 1/4 cup of the total mass.
Place chicken fillet and vegetables in a large plastic bag with fasteners. Pour the marinade from a bowl there. Fasten the bag, shake well and put in the refrigerator for at least 4 hours, and preferably overnight.
Turn on the grill to preheat to medium heat. Remove the chicken meat and vegetables from the marinade and in turn skewer. Place the chicken and vegetable kebabs on the grill and cook for about 6 minutes. Then turn over, brush with reserved marinade and cook for about 6 minutes more.
Serve chicken and vegetable kebabs with boiled rice (optional).
Also Like
Comments for "Chicken Fillet and Vegetable Kebabs"