Chicken Kebabs with Mushrooms and Vegetables
by Editorial Staff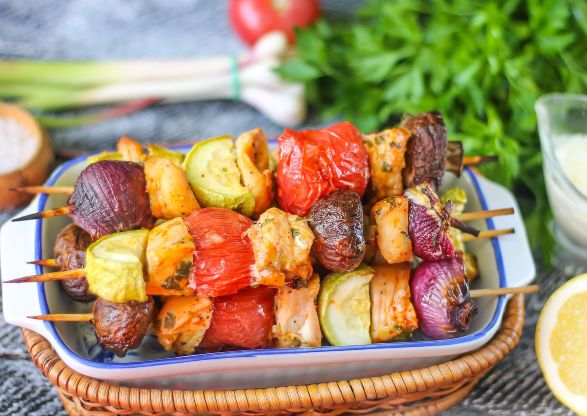 Juicy and bright chicken kebabs with mushrooms and vegetables. Chicken is first marinated in lemon juice with spices and then grilled with tomatoes, zucchini, onions and mushrooms.
Cook: 55 mins
Servings: 4
Ingredients
Chicken – 0.8-1 kg
Small tomatoes – 5-6 pcs.
Red onions, small – 4 pcs.
Zucchini – 1 pc.
Small champignons – 5-6 pcs.
Lemon – 0.5 pcs.
Vegetable oil – 2 tablespoons
Green garlic – 2 pcs.
Dried paprika – 1 pinch
Ground black pepper – 2 pinches
Salt – 3 pinches
Directions
To cook chicken skewers, rinse the chicken, cut off all the meat, especially the breast and pulp from the legs. You can use chicken hearts for kebabs, but not the liver – the liver falls apart on skewers when frying.

Rinse the green garlic stalks and chop them finely into a deep bowl. Add dried paprika, ground black pepper, salt, vegetable oil, squeeze the juice from half a lemon. Mix everything thoroughly to create a marinade.
Cut the chicken into portions and add to the container with the marinade.
Remember a little chicken in the marinade with your hands and leave for 25-30 minutes.

Rinse vegetables and mushrooms. Cut tomatoes, onions and champignons in half or into quarters if they are large. But it is better to use small ones. Cut the zucchini into slices.
String alternately vegetables, mushrooms and chicken pieces on damp wooden skewers.
Grill chicken skewers with mushrooms and vegetables for about 20 minutes, turning over from time to time. Check that the chicken is done by cutting it to a skewer.

Serve ready-made chicken kebabs with mushrooms and vegetables to the table hot, with sauce and fresh herbs.
Also Like
Comments for "Chicken Kebabs with Mushrooms and Vegetables"