Chicken in Carbonara
by Editorial Staff
An excellent recipe if you want to quickly and easily prepare a delicious chicken breast that absolutely everyone will enjoy! The chicken turns out to be very juicy, tender, and the sauce perfectly complements it.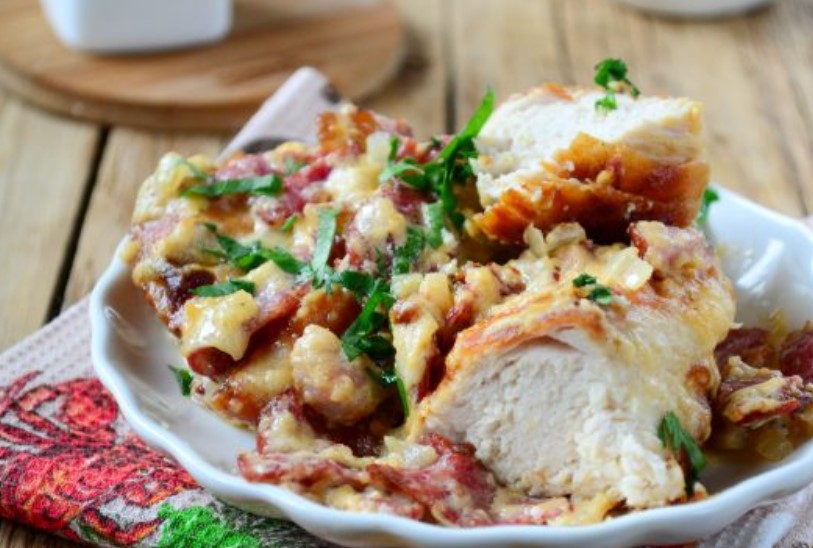 Cook: 40 mins
Servings: 2-3
Ingredients
Chicken Breast – 2 Pieces
Flour – 1/2 Cup
Hard cheese – 100 Grams
Salt, pepper – To taste
Cream 20% – 200 Milliliters
Smoked sausage – 80 Gram
Bacon – 100 Grams
Onions – 1 Piece
Garlic – 1-2 Cloves
Vegetable oil – 3 Tbsp. spoons
Directions
Prepare all the ingredients you need.

Mix the flour with 1/3 of the finely grated cheese, salt and pepper to taste.
Dip each chicken breast into the breading and sauté in vegetable oil until golden brown. To make the chicken cook well inside, cover it with a lid for 5-7 minutes and keep it on low heat.
Cut the bacon into small cubes and the sliced ​​smoked sausage into strips. Place them in a skillet and lightly brown.
Then add finely chopped onions and garlic, cook until the onions are translucent.
Pour in the cream, add salt and pepper to taste.
Finally, add the remaining cheese and cook until the cheese is melted.
Send the fried chicken breasts to the finished sauce.

Stir.
The carbonated chicken is ready. Serve with any side dish.
Bon Appetit!
Also Like
Comments for "Chicken in Carbonara"