Chocolate-Sprinkled Muffins
by Editorial Staff
Recipe for making muffins sprinkled with pecans, sugar, cinnamon, cocoa and chocolate.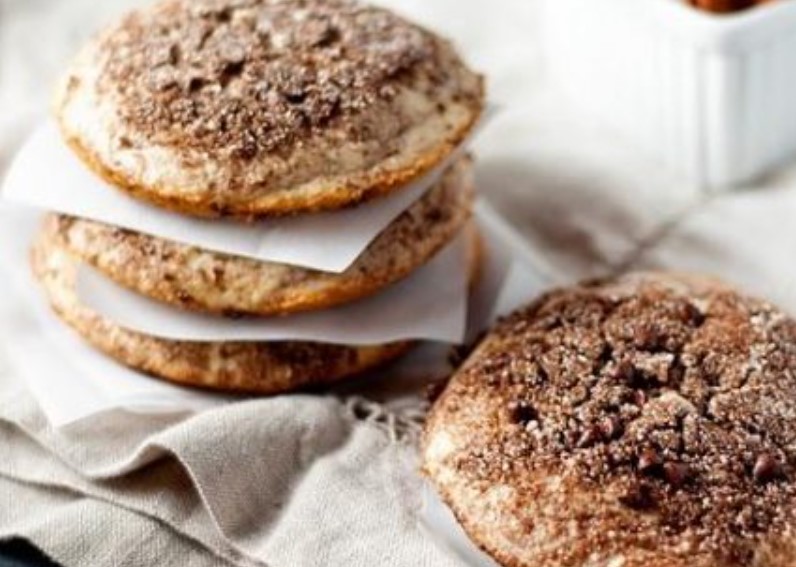 Cook: 30 mins
Servings: 4-6
Ingredients
Sugar – 1 Glass
Salt – 1 Teaspoon
Baking powder – 1 1/2 Teaspoons
Soda – 1/2 Teaspoon
Sour cream – 1 Glass
Eggs at room temperature – 2 Pieces
Vanilla extract – 1 Teaspoon
Pecans – 1 Cup ((optional) topping)
Cinnamon – 2 Teaspoons (sprinkled)
Cocoa Powder – 2 Teaspoons (topping)
Mini Chocolate Chips – 1/3 Cup ((optional) topping)
Directions
Preheat the oven to 175 degrees. Sprinkle the muffin pan with oil or line out paper inserts. In a medium bowl, combine sour cream, eggs and vanilla extract. Whisk and set aside.
In a bowl of food processor, combine pecans (if used), brown sugar, cinnamon, and cocoa. Place the mixture in a bowl and set aside. In a clean bowl of a food processor, combine the flour, sugar and salt, then add the pieces of butter. Stir 8-9 times. Stir 1/2 cup flour mixture with sprinkles with a fork and set aside.
Add baking powder and baking soda to the remaining flour mixture in the food processor and stir 4-5 times. Drizzle with the sour cream mixture and stir 5-6 times.

Add 3/4 cup of topping and stir with a rubber spatula.
Place 2 tablespoons of dough in each compartment of the muffin dish. Sprinkle 2 teaspoons of sprinkle on top evenly.
If using, sprinkle 1 teaspoon of chocolate chips on each muffin. Bake for 15-18 minutes.
Let stand for 2 minutes until demoulding. Allow to cool for 10 minutes before serving.
Bon appetit!
Also Like
Comments for "Chocolate-Sprinkled Muffins"