Chocolate Muffins
by Editorial Staff
The original recipe for chocolate muffins that remain semi-liquid inside, like a cream.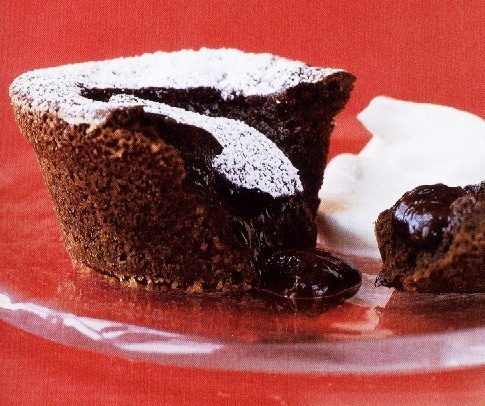 Ingredients
Butter at room temperature – 4 tbsp and additionally for lubricating molds
Sugar – 0.3 cups and additionally for sprinkling the molds
Large eggs – 3 pcs.
Flour – 0.3 cups
Salt – 0.25 teaspoon
Black chocolate, melted in a water bath – 200-220 g
Powdered sugar
Whipped cream
Directions
Preheat oven to 200 degrees. Oil well 6 muffin tins (muffins). Sprinkle sugar over the molds.
Beat butter and sugar with a mixer until fluffy. Add eggs one at a time, whisking the mixture each time until smooth. Reduce mixer speed to minimum, add flour and salt. Add chocolate. Carefully, do not kill the oil.
Pour the dough into molds. Place the baking tins on the baking sheet. Bake briefly, 13-15 minutes. Remove from oven and leave to cool for 10 minutes.
Serve chocolate muffins sprinkled with powdered sugar. Delicious with whipped cream.
Also Like
Comments for "Chocolate Muffins"