Dessert with Cookies, Orange and Chocolate Custard
by Editorial Staff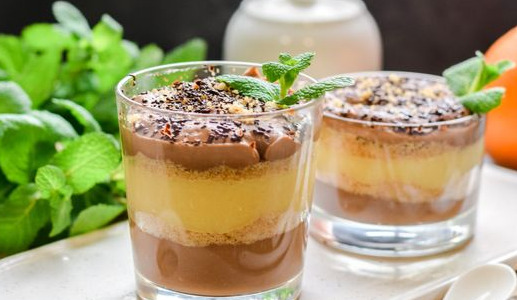 I bring to your attention the simplest, most delicious, and delicate dessert made of cookies and two types of custard – orange and chocolate. When serving, the dessert can be decorated with grated chocolate, add a sprig of mint. For a festive table, such a dessert is just perfect, take a note of the recipe!
Servings: 2
Ingredients
Shortbread cookies – 50 g
Oranges – 2 pcs. (450 g)
Chocolate – 40 g (+ for decoration)
Milk – 300 ml
Eggs – 2 pcs.
Sugar – 70 g
Flour – 40 g
Directions
Break the cookies and transfer them to the bowl of a kitchen blender. Grind the cookies into small crumbs.
Squeeze juice from oranges. I got 220 ml.
Break an egg into a bowl, add half the flour (20 g) and half the sugar (35 g).
Beat the egg with flour and sugar until smooth.
Bring the milk to a boil. Pour the beaten egg with flour and sugar into the milk in a thin stream, stirring constantly with a whisk. Cook the cream, stirring occasionally, for 2 minutes. During this time, the cream will become thick.
Add chocolate to the custard while stirring with a whisk.
Heat for another 30-40 seconds so that the chocolate melts, stirring, and remove the cream from heat.
Warm orange juice over medium heat, almost bring to a boil. Beat the second egg separately with the remaining sugar and flour. Pour the egg mass into the juice.
Cook with constant stirring for 2.5 minutes.
Prepare transparent glasses or bowls. Spread out half of the chocolate cream.
Put some cookies on top of the cream.
Then layout a layer of orange cream.
Sprinkle with cookies again.
Spread out the rest of the chocolate cream.
Decorate the dessert with grated chocolate. Put the chocolate-orange dessert in the refrigerator for 1 hour and then serve.
Enjoy your meal!
Also Like
Comments for "Dessert with Cookies, Orange and Chocolate Custard"