Flourless Curd Cake
by Editorial Staff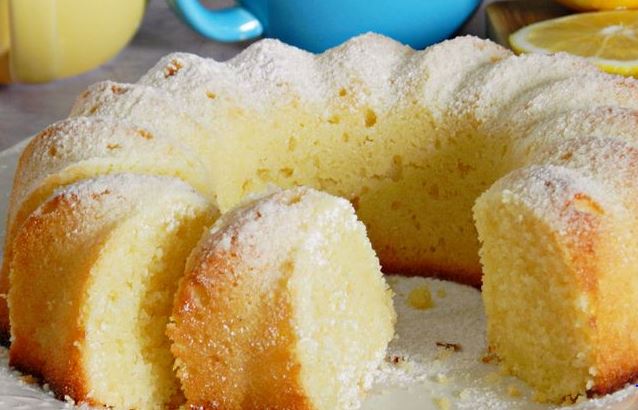 Delicious homemade pastries with cottage cheese and semolina are always a success. Flourless curd cake prepared according to this recipe turns out to be very tasty, sweet, and fluffy. Such a muffin with cottage cheese is ideal for breakfast or afternoon tea.
Ingredients
Semolina – 220 g
Cottage cheese – 100 g
Butter – 100 g
Sugar – 160 g
Sour cream (20% fat) – 30 g
Eggs – 2 pcs.
Baking powder – 1 teaspoon
Lemon (medium size) – 1 pc.
Powdered sugar – to taste
Directions
Break eggs into a bowl, add sugar. Beat eggs and sugar until fluffy. Add softened butter to the beaten eggs. Beat everything together.

Add cottage cheese and sour cream there. Mix well so that the mixture is homogeneous, without grains of cottage cheese.
Wash the lemon thoroughly, pour boiling water over it. Then dry the lemon and remove the zest (only the yellow part) from it with a fine grater. Add the zest to the dough, mix.
Add semolina and baking powder. Mix. Leave the dough for 30 minutes to swell the semolina. The muffin dough should be thick.
Preheat the oven to 175 degrees. Transfer the dough to a baking dish, flatten. It is convenient to bake curd cake in a silicone mold (the volume of my mold is 2 liters), it does not need to be oiled. A metal or glass dish should be greased with a little butter.
Put the form with the dough in an oven heated to 175 degrees. Bake the curd cake without flour for 25-30 minutes. Check the readiness of the cake with a wooden skewer.
Cool the finished cake in the form and turn it over on a plate. Sprinkle the cottage cheesecake with the icing sugar to taste and serve.
Enjoy your meal!
Also Like
Comments for "Flourless Curd Cake"