Fried Mushrooms, Cheese and Corn Salad
by Editorial Staff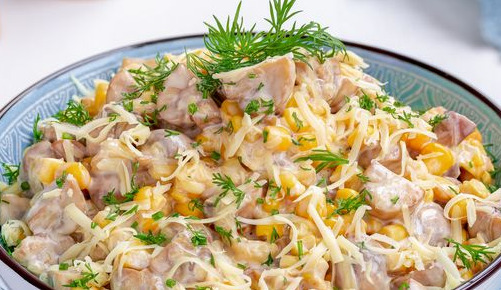 A nutritious salad of mushrooms fried with onions, canned corn, and cheese is a versatile dish that can be whipped up and served warm or chilled. The harmonious combination of hot fried mushrooms with onions, mouth-watering strands of melted cheese, and sweet corn gives the salad a tempting taste and satiety, and the mayonnaise dressing makes the salad even more juicy and tender. Try it!
Servings: 2
Ingredients
Champignons – 500 g
Canned corn – 1 can (340 g)
Onions – 150 g
Hard cheese – 150 g
Mayonnaise – 100-120 g (to taste)
Vegetable oil (for frying) – 2 tbsp
Salt to taste
Ground black pepper – to taste
Fresh dill (for decoration) – 1-2 branches
Directions
Peel, wash, and cut onions into thin half-rings. Peel the mushrooms from dirt, wipe with a damp towel, and cut them into small pieces. I cut small mushrooms into quarters.
Heat vegetable oil in a frying pan, add onions, and, stirring occasionally, fry for 6-8 minutes, until soft and golden.
Then add the mushrooms. Stirring occasionally, fry the mushrooms and onions for another 12-15 minutes, until the mushrooms are ready.
Place canned corn in a salad bowl.
Grate the cheese on a coarse grater. Add shredded cheese to the salad bowl to the canned corn. Save 1-2 pinches of cheese to garnish the salad if desired.
When the champignons are ready and the liquid that the mushrooms will release has evaporated, add the hot onion-mushroom mixture to the salad bowl to the rest of the salad.
Add mayonnaise.
Mix everything well so that the cheese melts from the heat of the onion-mushroom mixture. Try the salad and add salt and black pepper to taste if necessary.
To serve, place the salad in a heap on a serving plate. Sprinkle with a pinch of chopped dill and grated cheese, if desired. Serve the salad warm or chilled.
Enjoy your meal!
Also Like
Comments for "Fried Mushrooms, Cheese and Corn Salad"