Homemade Сandied Orange
by Editorial Staff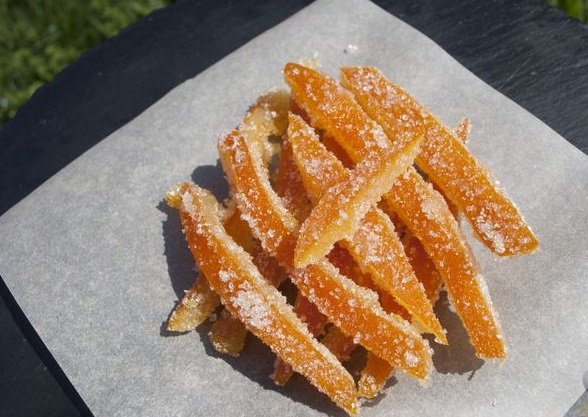 Fragrant, colorful, juicy, and very tasty candied orange fruits. Fast, simple, delicious!
Ingredients
Ripe oranges (medium size) – 2 pcs. (450-500 g)
Sugar – 230-250 g + for rolling candied fruits
Directions
The advantage of this dessert is its versatility. There is no need to observe exact proportions here. Small errors in grammar will not play a special role. Just sugar should be about 2 times less than oranges (whole).
Wash oranges, wipe dry, cut in half, and squeeze out the juice.
The approximate amount of juice will be about 150-200 ml. This is quite enough. If there is less juice, add water.
Pour the juice over the sugar and mix well.
Due to the fact that I got a lot of juice, I had no problems with the dissolution of sugar. If you have a little less juice, before adding orange peels, send the future syrup in the microwave for 2 minutes to dissolve the sugar.
Cut the orange peels into strips about 0.5 cm thick. And transfer them to the future syrup.
Now we cover the container with orange peels with a lid, send it to the microwave, and cook at maximum power in pulses for 4 minutes. The number of pulses depends on the thickness and hardness of the peel. I usually have it from 4-6 times. It takes a little longer than not to cook and the rind will be firm.
During each visit, it is better to periodically open the microwave. The mass will boil! CAUTION! DO NOT BE BURNED! Make sure the syrup does not boil over.
At the end of each call, take out, mix well. After each time, you will notice how the orange peels will begin to change color – they will become more transparent, like marmalade. And the syrup will become less and less, it will thicken.
You can check the readiness of the orange peels with a toothpick. She should be free to go in and out. The rind should be soft.
We spread all candied fruits on a dish or wire rack and leave to cool and dry. If you have time, candied fruits can be left overnight. If there is no time, like mine, we send it to the oven, preheated to 60-70 degrees, for about an hour.
Pour the syrup into a jar and use it further as desired. I usually add syrup to baked goods directly into the dough when kneading.
The syrup can also be used as a topping for ice cream, pancakes, pancakes, cheesecakes, casseroles, or added to drinks, for example.
After drying, roll the candied fruits generously in sugar. And put it in a hermetically sealed container. Store in the refrigerator.
According to the shelf life, I can say that my candied fruits have been in the refrigerator for 3 months already. Just checked it out, the candied fruits are fresh, aromatic, and tasty.
Here is such a simple, affordable recipe, and the result is bright, tasty, aromatic candied fruits.
Hope you find it useful !!!
Also Like
Comments for "Homemade Сandied Orange"