Homemade Orange Buns
by Editorial Staff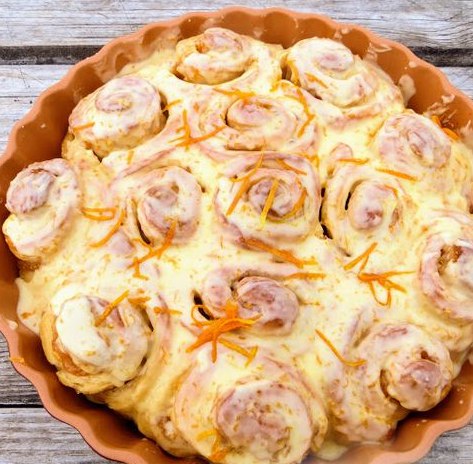 We try, change, add something! So today, instead of the traditional filling for Cinnabon, the orange jam was added to the buns, and they did not regret it a minute! Bright taste, magic aroma, and many delicious homemade buns! Cook for your health and enjoy your tea!
Ingredients
For the dough:
Milk (warm) – 200 ml
Wheat flour – 700 g
Dry yeast – 2 teaspoon
Chicken eggs – 2 pcs.
Butter (soft) – 70 g
Sugar – 100 g
Salt – 1 teaspoon
Vegetable oil – for working with dough
For filling:
Orange jam – 70 g
Cane sugar – 30-50 g
Butter (melted) – 50 g
For glaze:
Orange – 1 pc.
Powdered sugar – 100 g
Butter (melted) – 1 tablespoon
Instructions
In a cup with sifted flour we make a depression, where we start a quick dough: pour in milk, add yeast and a little sugar (a good pinch) – mix. Let it stand for 5-7 minutes. Beat the sugar with eggs, then add soft butter and beat again. We put everything together: add salt to the flour and pour in the eggs and butter. Knead a soft bun dough. Covering with a film (towel), let stand for about 1 hour, in a warm place.
While the dough is coming up, I'll tell you about the filling. Decided to replace the cinnamon with orange jam.
The dough has risen perfectly, slightly knead, and roll into a rectangle on a greased surface. Using a brush, distribute the butter (melted), 1-2 cm short of one edge. Spread the jam, spread with a spoon, and sprinkle with cane sugar.
Roll the dough with orange jam into a roll (the edge without oil will stick well at the end). We cut the roll into identical pieces – blanks for buns. We put the blanks for buns in a prepared mold (28 cm in diameter), oiled, at a short distance. Let it stand for another 10-20 minutes while the oven heats up. We bake buns with jam in the oven at 180 degrees for 30 minutes. Then let the buns cool.

Yeast rolls can be coated with orange glaze if desired. To prepare the icing, mix the icing sugar, orange juice (the amount depends on the desired consistency), the zest grated on a fine grater, and a spoonful of butter. Spread the glaze over the surface of the buns with a brush.
The dough is soft and very aromatic! Next time I will bake, remove the sugar from the dough (almost all), and add the zest to the filling. I think it will be even tastier! Try it, bake it!
Also Like
Comments for "Homemade Orange Buns"