Hot Salad with Mushrooms
by Editorial Staff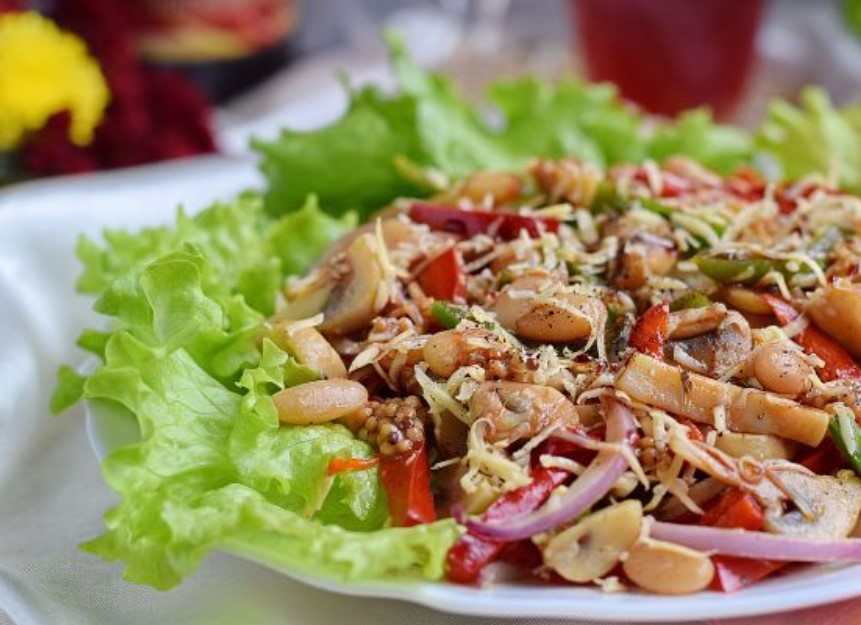 We bring to your attention a recipe for a hot salad with mushrooms, which will look great on a festive table. Thanks to this set of products, the salad, without a doubt, can claim to be a side dish, it is also served hot and at the same time is very satisfying.
Ingredients
Champignons – 350 g
Bulgarian pepper – 150 g
Purple onion – 100 g
Beans – 150 g
Cheese – 50 g
Lettuce leaves – 1 bunch
Vegetable oil – for frying
Vinegar – 20 g
Pomegranate sauce
Mustard beans – 10 g
Thyme – pinch
Adyghe salt
Ground black pepper
Directions
Prepare the ingredients for the hot mushroom salad.

Since beans are cooked for the longest amount of time, you need to prepare them first of all – toss them into a saucepan with water, cook until cooked (the cooking time depends on the type and size of beans).
Soak the mushrooms in water to remove excess dirt, crumble with medium-sized blocks. Next, load the mushrooms into a dry frying pan installed on the burner, simmer on minimal heat until the liquid evaporates, then pour in a sufficient amount of oil, fry for 2 minutes.
Meanwhile, peel off the seeds and soft partitions from the pepper, wash, chop not very long strips. It is better to use pepper in different colors to fill the salad with colors. Remove the husk from the onion, wash, chop in half rings.
Send the pepper to the pan to the mushrooms, add oil if necessary.
Following the pepper, send the cooked beans, with frequent stirring, fry the mixture for another 3 minutes, without covering it with a lid.
Pour onion slices with water at room temperature, add the specified amount of vinegar, stand for 5 minutes, this will save the vegetable from unpleasant onion bitterness.
Add pickled onions to the ready-made mixture, season with Adyghe salt and thyme, add mustard in grains, mix and immediately remove from the stove.
Wash lettuce leaves, remove excess water drops as much as possible, and lay them beautifully on a plate.
Pour hot salad on the leaves, sprinkle with finely chopped cheese and black pepper on top.

The final chord before serving is soaking the salad with pomegranate sauce, the amount depends on personal preference.
The hot mushroom salad is ready.
Serve salad as a side dish with meat, poultry and other main courses.
Bon Appetit everyone!
Also Like
Comments for "Hot Salad with Mushrooms"