Quick Pickled Mushrooms (Hot)
by Editorial Staff
The best recipe for pickled champignons, and even with pickled onions! Try to cook such pickled mushrooms once and you cannot live without them!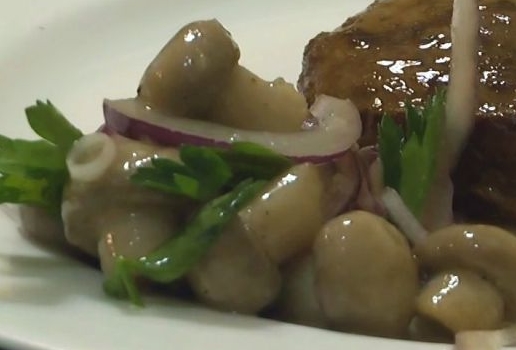 Servings: 4
Ingredients
Champignons – 500 g
Blue onion, large – 1 pc.
Water – 300 ml
Salt – 1 tbsp
Bay leaf – 2 pcs.
Allspice peas – 3 pcs.
Cloves – 2 pcs.
Apple cider vinegar 6% or wine – 2 tbsp
For refueling:
Sunflower oil – 5 tablespoons
Garlic – 1 clove
Freshly ground black pepper – to taste
Apple cider vinegar 6% or wine (optional) – 1 dec. spoon (to taste)
Directions
For a cold champignon snack, I recommend buying small champignons, they look more aesthetically pleasing on the table. When choosing champignons, pay attention to the fact that the hat is still unopened, and the mushrooms are as white as possible.

Thoroughly rinse the mushrooms under cold running water. Fill with cold water and cook the mushrooms in salted water until tender. At the end of cooking, add seasoning and after a few seconds remove from the stove. Cool the mushrooms and marinade separately.

Cut the onion into half rings, as thin as possible (the thinner the onion is chopped, the faster it will pickle and give up its bitterness).
Put the cooled champignons in a jar and cover with onions.
Add apple or wine vinegar to the cooled mushroom broth.
Fill the mushrooms and onions with marinade.
We close the jar with a nylon lid and leave in the refrigerator overnight.
After 12 hours, pickled mushrooms with onions can already be served, but a cold mushroom appetizer will become even tastier in 2-3 days.
Prepare a dressing for mushrooms: mix the garlic squeezed through a press (a little, the garlic should only be slightly felt) with vegetable oil and freshly ground black pepper. If desired, add vinegar for a spicy dressing.

Pour the marinated champignons with the prepared dressing.
Bon Appetit!
Also Like
Comments for "Quick Pickled Mushrooms (Hot)"