"House of the Spider"
by Editorial Staff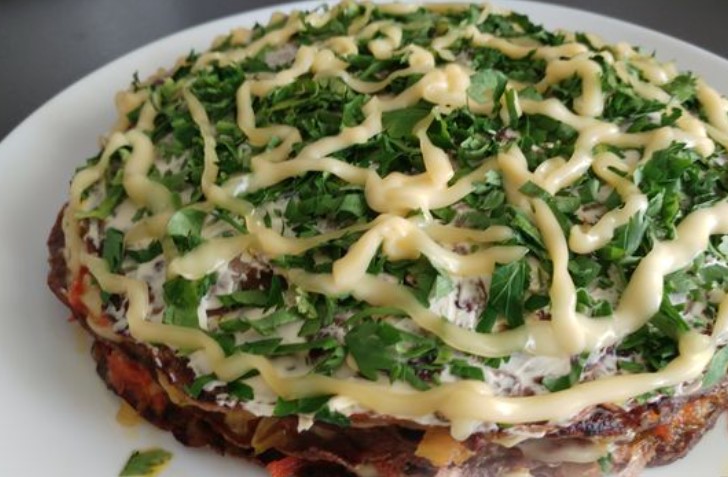 Prepare a liver cake and decorate it with a cobweb.
Cook: 1 hour
Servings: 8
Ingredients
Beef liver – 0.5 kg
Eggs – 2 pcs.
Flour – 3 tbsp
Milk (a little, for pancake dough) – 30 ml (how much it will take)
Carrots – 2 pcs.
Bulb onions – 2 pcs.
Mayonnaise – 150 g (to taste)
Greens – 1 bunch
Butter soft – 20 g (to taste)
Vegetable oil for frying – 30 ml (how much it will take)
Soda – 0.5 teaspoon
Salt – 1 teaspoon (to taste)
Ground black pepper – 0.3 teaspoon (to taste)
Directions
Prepare foods for the liver cake.

Wash greens, chop finely.
Peel and wash onions and carrots. Grate the carrots, finely chop the onion.
Heat a frying pan, add vegetable oil (2 tablespoons). Place prepared onions and carrots. Fry the onions with carrots over medium heat, stirring occasionally, until the onions are golden (about 5 minutes).
Cut the liver into pieces. Grind. From the remaining ingredients (except for mayonnaise), knead the dough as for pancakes.
Preheat a frying pan, brush with vegetable oil. Pour a portion of the dough (slightly less than a ladle), distribute the pancake over the entire pan.
Bake the pancake for one minute on each side
Bake as many liver cakes as possible.
Collect the cake. On each pancake, spread the onion and carrot roast and pour over with mayonnaise.

Grease the top cake with butter.
Sprinkle the liver cake with herbs.
Draw a spider web of mayonnaise on top. Let the liver cake stand in the refrigerator for 24 hours.
The "Spider's House" liver cake is ready!
Bon Appetit!
Also Like
Comments for ""House of the Spider""