Lemonade with Watermelon and Basil
by Editorial Staff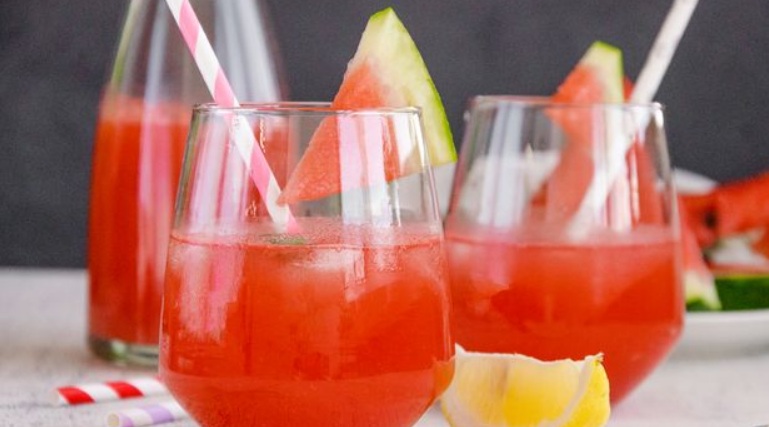 Lemonade with watermelon and basil is the perfect drink to cool off in the summer heat. This lemonade perfectly combines the freshness of watermelon, the slight sourness of lemon juice, and the delicate aroma of fresh basil. Very original!
Cook: 10 min.
Servings: 3
Ingredients
Watermelon (seedless pulp) – 300 g
Coldwater – 300-500 ml
Lemon – 1/2 pc.
or lemon juice – 2 tbsp
Fresh basil – 1 sprig
Honey – 1/2 tbsp (or to taste)
Directions
If you wish, instead of honey, you can take sugar or any sweetener to your taste. And if the sweetness of the watermelon is enough, then you can not use any sweeteners at all. It is best to pre-cut the pulp of the watermelon into large pieces and refrigerate.
Place pieces of watermelon in a blender bowl and grind at high speed.
Squeeze the juice out of the lemon (I got about 2 tablespoons). If necessary, filter the resulting juice to get rid of the seeds.
Add lemon juice and honey to the blender bowl. Lightly knead the basil leaves in a mortar or simply rub between your palms so that they better give off their aroma and send them to the blender bowl. Pour in water and mix. The amount of water can be varied depending on the desired saturation of the drink. Unusual lemonade with watermelon and basil is ready. If you wish, you can send it to the refrigerator for 1-2 hours, so that it infuses and becomes even tastier.
Pour watermelon lemonade with basil into glasses and serve to the table, adding ice cubes if desired and decorating with watermelon slices.
Also Like
Comments for "Lemonade with Watermelon and Basil"