Liver Pancakes Stuffed with Cheese, Korean Carrots and Eggs
by Editorial Staff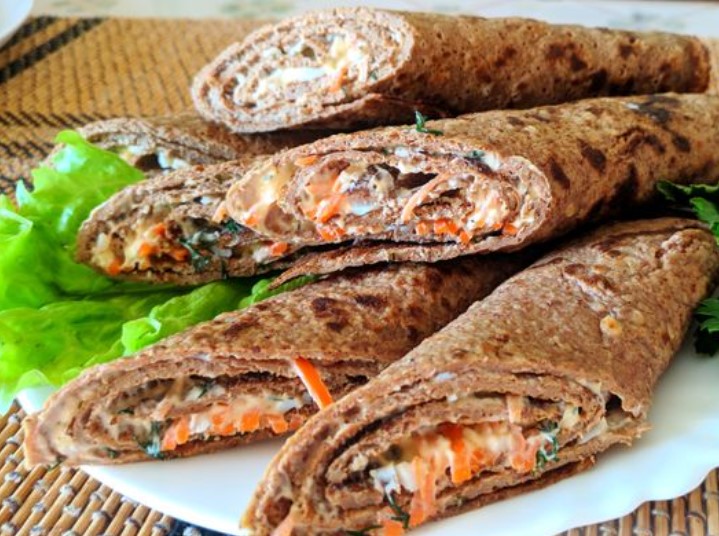 For liver lovers, an excellent appetizer is stuffed liver roll pancakes. The filling is very tasty – melted cheese, Korean carrots, boiled eggs and fresh dill mixed with mayonnaise.
Cook: 1 hour 20 mins
Servings: 12
Ingredients
Chicken liver – 500 g
Bulb onions – 1 pc.
Milk – 1 glass (200 ml)
Eggs – 2 pcs.
Flour – 3 tbsp
Salt to taste
Ground black pepper – to taste
To grease the pan:
Vegetable oil – 1 tbsp
or pork lard – 10 g
For filling:
Processed cheese – 200 g
Korean carrots – 100 g (to taste)
Mayonnaise – 4 tbsp (to taste)
Eggs – 2 pcs.
Salt to taste
Ground black pepper – to taste
Fresh dill (optional) – 0.5 bunch
Directions
Prepare food.

Boil eggs hard-boiled (10 minutes after boiling) and cool in cold water.
Peel the onion and cut into large pieces.
Wash the liver, cut off blood vessels. Place the liver and onions in a blender with a knife attachment.
Chop the onion and liver into a homogeneous mass.
Pour the liver mass into a bowl. Beat in two raw eggs. Add salt and pepper to taste.
Whisk everything well. Pour in milk. Whisk well. Sift the flour and add to the liquid dough base.
Whisk well into a homogeneous mass (so that there are no lumps).

Liver pancake dough is ready.
Preheat a frying pan, brush with vegetable oil (or a piece of bacon). Pour a portion of the dough into the pan with a ladle, distribute over the entire bottom.
Fry the pancake over medium heat for 1-2 minutes on each side, until golden brown.
So fry pancakes from all the dough. It turned out 12 pancakes. Pancakes are ready. Cool down.
While the liver pancakes are cooling, prepare the filling. Grate the processed cheese on a coarse grater.
Wash the dill and chop finely.
Peel and grate eggs.
In a bowl, combine Korean carrots, eggs, cheese, herbs and mayonnaise.
Season with salt and pepper to taste. Mix well. The filling is ready!
Grease each liver pancake with filling.

Roll pancakes stuffed with cheese, Korean carrots and eggs into rolls. Stuffed liver pancakes are ready.
When serving (optional), cut the filled pancake rolls obliquely in half.
Bon Appetit!
Also Like
Comments for "Liver Pancakes Stuffed with Cheese, Korean Carrots and Eggs"