Eggs Stuffed with Cod Liver
by Editorial Staff
Who among us does not know the popular snack of boiled eggs, which does not lose its popularity over time, but only improves and appears in new variations. Stuffed eggs are a universal dish that always looks great at any meal and is to the liking of all guests. There are just a huge number of ways to prepare this snack, so everyone can choose the most suitable option. We chose a simple but very tasty recipe and will be happy to tell you how to cook delicious eggs with cod liver. This combination of products makes the taste of this snack bright, rich, no one will resist it. Eggs stuffed with cod liver – it's really tasty, tender and appetizing, this treat is sure to please guests.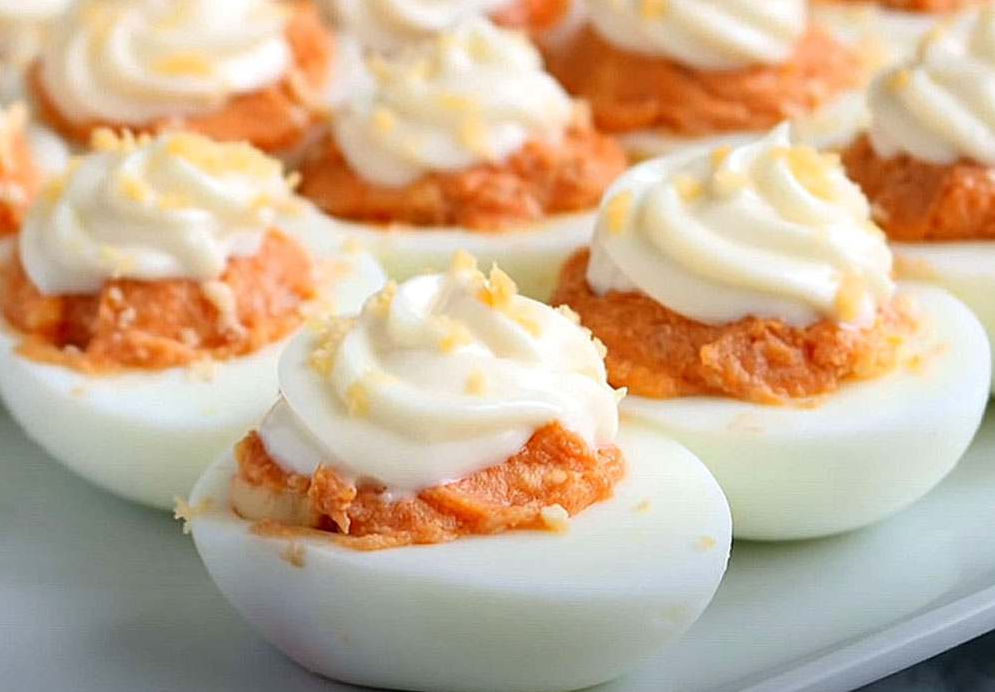 Ingredients
Directions
Eggs with cod liver are the simplest and fastest snack that will decorate any feast. At the same time you will spend the minimum amount of time to cook this dish. All we need to do is boil the eggs, make the filling and shape our snacks. Of course, any dish, especially a snack, on the holiday table should be not only delicious, but also look beautiful. We will share with you some secrets, thanks to which you will get a great result. So, first we need to boil the eggs. For them to be beautiful, they need to be easily peeled. To do this, in the water in which they will be cooked, add a little salt and pour wine vinegar. In order for the eggs to boil cool, they must be boiled in boiling water for at least seven minutes, preferably ten. It is very important that the water does not boil too much, because the eggs may burst.

At the end of this time, remove the eggs from the pan and immediately fill them with cold water. This also helps make them easy to clean. We leave them in cold water for 10 minutes and then peel them. Then cut each egg in half. In this recipe, we cut them lengthwise. Place the egg yolks in a deep bowl and gently mash them with an ordinary fork.
Here we add cod liver, from which we pre-drain the fat. Knead the liver with a fork. Then add four tablespoons of tomato sauce and mix thoroughly until smooth. This combination of ingredients for the filling is very successful and makes the taste bright and original.
Now let's start shaping our snacks. We fill each half of the egg with our beautiful fragrant filling. It is not necessary to pity it, we fill well, making a slide from stuffing.
Then cover with mayonnaise. To make our dish look elegant and beautiful, we recommend using a pastry bag. At the end, rub the egg yolk on a fine grater and sprinkle them with our snacks. If desired, you can grate the cheese on top, add fresh herbs. Thus, we quickly and easily got a wonderful dish – eggs with cod liver – delicious, fragrant, appetizing in appearance. Such a treat will fly on the holiday table in a few minutes. Prepare delicious meals with us and enjoy the results of your creations.
Bon appetit!
Also Like
Comments for "Eggs Stuffed with Cod Liver"