Tartini with Avocado and Cod Liver Mousse
by Editorial Staff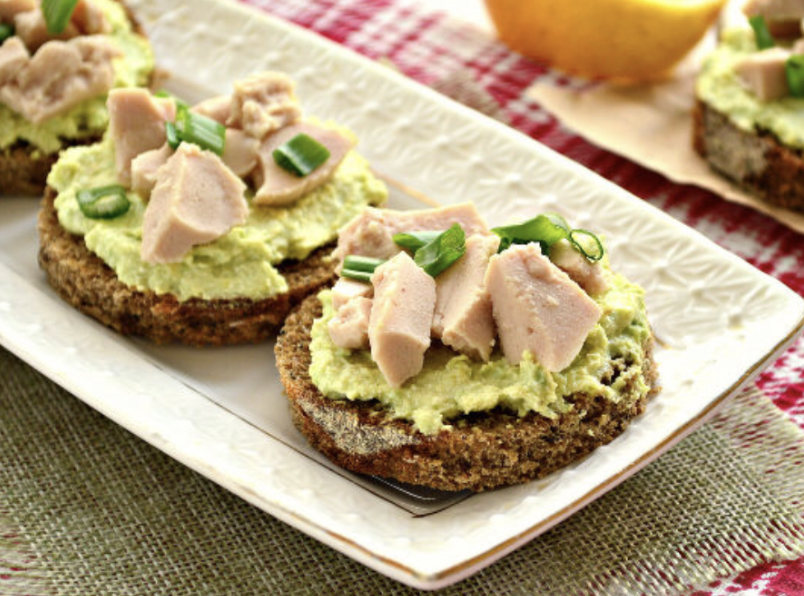 Diversify the holiday feast with an interesting snack. Tartines with avocado and cod liver mousse will surely find their admirers and will not go unnoticed.
Ingredients
Avocado – 1 pc.
Cottage cheese – 50 g
Lemon juice – 2 tbsp
Cod liver – 100 g
Rye bread – 4-5 slices
Salt to taste
Ground black pepper – to taste
Fresh greens – 2-3 branches
Directions
We prepare the necessary ingredients for the avocado and cod liver tartans according to the list. You will also need a blender to grind food.

We start by processing the avocado. Cut the fruit into two halves and remove the stone. Remove the skin from the avocado with a knife.
Cut the avocado into cubes, which we transfer to the blender bowl for chopping. Sprinkle the avocado with lemon juice so that the avocado flesh retains its green color.
Turn on the blender, grind the fruit.
Add cottage cheese to the resulting avocado pulp. Mix the ingredients again. Season the resulting mass with salt to taste and pepper. Avocado and cottage cheese mousse is ready.
Using a small culinary ring, cut the bread slices into round blanks for tartans.
Grease each bread slice with cooked avocado mousse.
On the avocado mousse, spread the cod liver, previously cut into pieces.
Decorate the avocado mousse tartines with fresh herbs.

The avocado and cod liver appetizer is ready! Tartines are obtained with a spicy delicate taste.
Enjoy your meal!
Also Like
Comments for "Tartini with Avocado and Cod Liver Mousse"