Eggs Stuffed with Sprats
by Editorial Staff
Stuffed eggs are a versatile dish that appeals to both adults and children, so there are an incredibly large number of recipes. There are as many ways to fill as you like, it all depends on the culinary imagination, but there are especially successful combinations that have long been loved by all. One such recipe is eggs stuffed with sprats.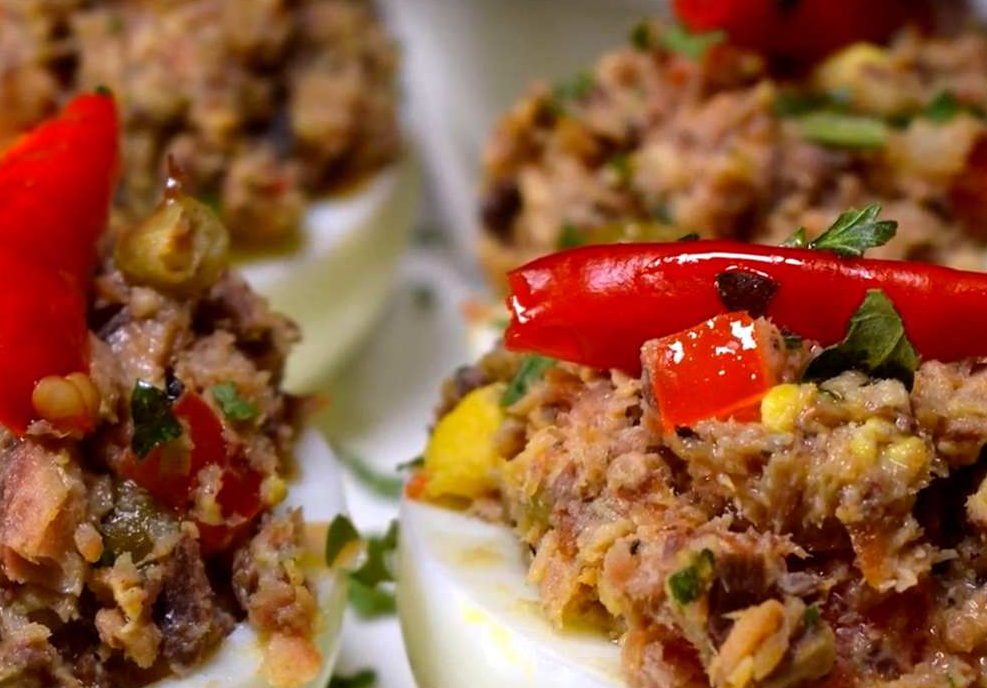 Ingredients
Directions
So, first of all, of course, boil the eggs cool. Pour water into a saucepan and send to the stove. For this dish we need eggs, hard boiled, but not too digested, so that the yolk does not turn blue. In addition, they must be undamaged to have a good representative appearance.

To do this, there are a few rules you need to follow to get a good result. First, put the eggs in boiling water, but do it carefully so as not to hit the egg on the bottom. To do this, put it on a spoon and then lower. Secondly, to cook cool, eggs need to boil for at least 7 minutes in boiling water.
But it is important to note that the water should not boil too intensely, otherwise the eggs may burst. After they are cooked, be sure to fill them with cold water, this is necessary for them to be well cleaned. Leave the eggs in cold water for ten minutes, then gently peel.
Now let's do the stuffing. Put sprats in a separate container.
Finely chop the washed parsley. We also peel the bulb and finely chop it.
Cut the olives in half. We still grind dried pepper, we cut it simply by rings.
The next step is to cut the boiled eggs in half. It is better to cut lengthwise.
Then carefully remove the yolks from each half and throw them in a container with sprats.
Stir well with a fork to grind. Here we add already cut other ingredients and mix everything thoroughly to get a homogeneous mass. It should be noted that you do not need to add mayonnaise, because this combination of products has a very viscous and not dry consistency.
Well, now let's get to the main task and stuff the eggs. To do this, fill each half with our fragrant filling, not sparing the delicacies and forming a slide.
Decorate the top with a piece of pepper or greens and hurry to serve to show guests or family eggs stuffed with sprats.
Bon appetit!
Also Like
Comments for "Eggs Stuffed with Sprats"