Sand Tartlets with Cod Liver and Cream Cheese
by Editorial Staff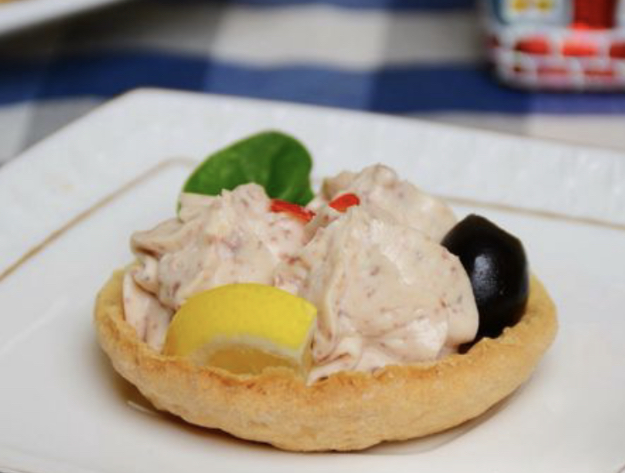 Cod liver and melted cheese tartlets are the perfect cold snack. It looks great and how delicious it is!
Ingredients
Cod liver – 50 g
Processed cream cheese (without additives) – 200 g
Butter (softened) – 50 g
Shortcrust tartlets – 8-10 pcs. (5.5 cm diameter)
For decoration:
Olives – 8-10 pcs.
Lemon – 2-3 circles
Sweet pepper (kapi) – about 0.5 pcs.
Fresh basil – 8-10 leaves
Directions
See the link in the product list for the recipe for shortcrust pastry tartlets.
We will make this appetizer based on processed cheese. If you have a negative attitude towards processed cheese, then replace them with cream cheese (like Philadelphia), the appetizer will turn out to be even airier.
We rub processed cheese on a coarse grater.
Open the jar with cod liver oil, drain the oil. Add the liver to the cheese.
Add softened butter.

Mix with a mixer at minimum speed. We shift the resulting mass into a pastry bag with a nozzle.
Squeeze a creamy mass into sand tartlets.
Cut the lemon into quarters, cut the bell pepper into rings.
Decorate the tartlets with cod liver and melted cream cheese with olives, lemon, basil, and bell peppers.
Cod liver tartlets are ready!
Enjoy your meal!
Also Like
Comments for "Sand Tartlets with Cod Liver and Cream Cheese"