How to prepare an unusual dish from the simplest set of products? Easily! Armed with this recipe, you'll make a beautiful and delicious omelet that looks like an airy egg pie. Omelet in the oven turns out to be very lush, with a delicate taste and aroma.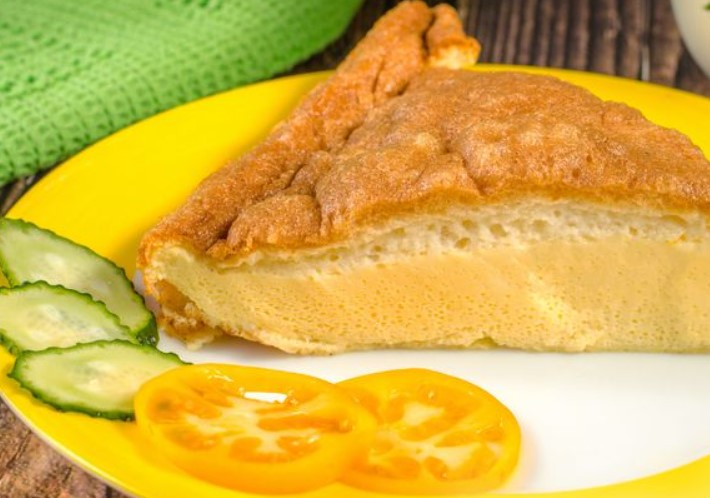 Cook: 50 mins
Servings: 3
Ingredients
Eggs – 8 pcs.
Milk – 200 ml
Sour cream – 4 tbsp
Wheat flour – 1 tbsp
Salt to taste
Ground black pepper – to taste
Butter – for greasing the mold
For filling (optional):
Tomato – 1/2 pc.
Cucumber – 1/2 pc.
Directions
We prepare products.
Turn on the oven to heat up to 180 degrees.
Break the eggs, separate the whites from the yolks. The yolks, fat or water should not get into the whites – it will depend on how well the whites beat up.
Add sour cream, milk, flour, salt and black pepper to the yolks.
Beat until smooth.
Whisk the whites until stable peaks.
In portions, 2-3 scoops each, gently mix the whipped whites into the yolk mass.
We shift the omelet mixture into the mold, gently level it. Cooking an omelet with sour cream in an oven preheated to 180 degrees, 35-40 minutes.
Let the finished omelet cool slightly. The middle of the omelet will fall off a bit, that's okay.
Serve a fluffy omelette pie to the table, adding fresh vegetables.