Meat Appetizer "Bear's Paw"
by Editorial Staff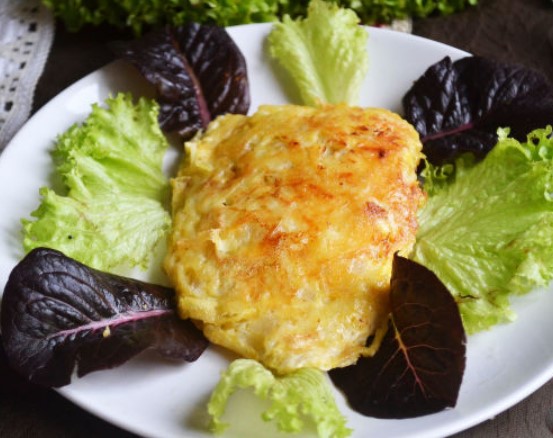 Delicious pork meat appetizer in a potato crust will decorate any festive table. The main thing is that the meat according to this recipe is prepared very easily and quickly.
Ingredients
Pork – 500 g
Eggs – 3 pcs.
Vegetable oil – 60 ml
Potatoes – 500 g
Hard cheese – 100 g
Salt to taste
Pepper to taste
Garlic – 2 cloves
Bulb onions – 1 pc.
Directions
We prepare all the necessary products for the "Bear's Paw" meat snack.
Cut the pork into small pieces.
Cover the pork with cling film and beat carefully.

Peel the garlic and onion. Grind the garlic with a garlic press. Cut the onion into small cubes.
Rub the cheese on a coarse grater.
Rub the broken pieces of meat with salt, pepper and chopped garlic.
Peel the potatoes and rub on a coarse grater.
Add onions, eggs and grated cheese to the potatoes.
Mix the minced potatoes thoroughly.
Pour vegetable oil into the pan and put the minced potatoes with a spoon.
Put slices of meat on the minced potato.

Spread a thin layer of minced potatoes on the meat with a spoon so as to completely cover the meat.
Fry the meat in a potato crust on both sides, until golden brown. (If, when turning, the minced potato disintegrates a little, then fry it on the side where it disintegrated. And put the excess aside.)

Pork meat appetizer in a potato crust is ready.

Enjoy your meal!
Also Like
Comments for "Meat Appetizer "Bear's Paw""