Meat Salad in Pancakes
by Editorial Staff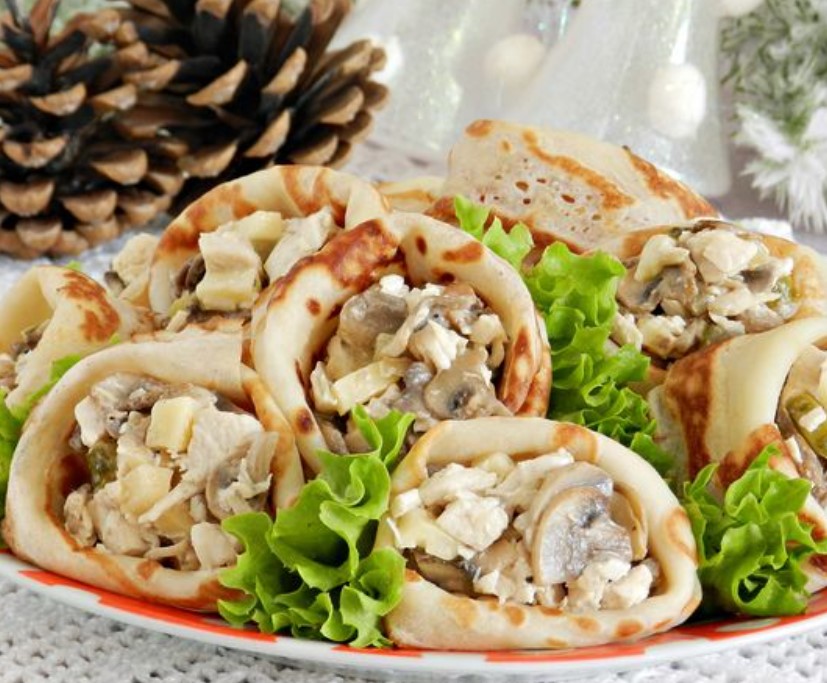 Make a salad with chicken, mushrooms, cheese, and pickles. And serve it in thin pancakes. Such an original salad serving will not go unnoticed on the festive table.
Ingredients
Thin pancakes (ready-made) – 6 pcs.
Chicken fillet – 250 g
Fresh champignons – 200 g
Hard cheese – 50 g
Pickled cucumber (or pickled) – 1 pc.
Bulb onions – 1 pc.
Garlic – 1 clove
Mayonnaise – 2 tbsp
Salt to taste
Ground black pepper – to taste
Vegetable oil – for roasting mushrooms
Fresh greens – for decoration
Directions
Before making pancakes stuffed with chicken and mushroom salad, you need to prepare all the necessary products.

Cut the onions into cubes. Chop mushrooms arbitrarily, but not very coarsely
Fry champignons with onions in vegetable oil. Season with salt and pepper.
Boil the chicken fillet in salted water until tender.
Cut the boiled meat into small cubes.
Cut the pickled or pickled cucumber into cubes.
Cut the cheese as well.
Mix all the ingredients for the salad in a bowl. Squeeze a clove of garlic into mayonnaise and mix.
Season the salad with mayonnaise and garlic. Stir – and the salad with chicken, mushrooms and pickles is ready.
Fold the pancakes in a pile and cut into 2 pieces.
Roll half a pancake in a circle, as if making a paper bag. Bend the top edge so that the "bags" do not unfold.

Fill the pancake pouches with salad.
Put the pancakes with salad in a slide on a plate. Decorate the appetizer with fresh herbs.
Pancake salad is ready. Can be served on the table.
Bon Appetit!
Also Like
Comments for "Meat Salad in Pancakes"