Milk-Spiced Risotto With Meat
by Editorial Staff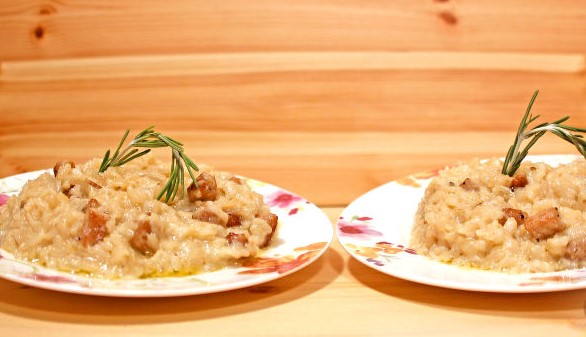 A simple and quick recipe for an exquisite risotto with pork and a spicy milk sauce infused with rosemary, cinnamon and cloves.
Cook: 50 mins
Serving: 3
Ingredients
Rice (for risotto or parboiled) – 130 g
Pork (or other meat) – about 170 g
Broth (chicken, etc.) – 300 ml
Milk – 150 ml
Dry white wine (or apple juice) – 100 ml
Parmesan (or other cheese) – 70 g
Butter (optional) – 20 g
Olive oil – for frying
Fresh rosemary – 1 large sprig (or 3 small ones)
Bay leaf – 2 pcs.
Carnation – 4 buds
Black peppercorns – 10 pcs.
Cinnamon – 1 stick
Black pepper – to taste
Salt to taste
Directions
We start by flavoring milk.
Heat olive oil in a frying pan and put in it a large branch of rosemary or several small ones, 2 bay leaves, 4 cloves buds, 10 black peppercorns and a cinnamon stick. (If there is no fresh rosemary, use dried rosemary; instead of a cinnamon stick, you can add a little ground.) Fry for a few minutes. The cinnamon stick may crack.
Add 150 ml of milk, mix.

Adjust the heat to bring it to a slight boil. Cook for 10 minutes.
For the meat part, I took pork – the purest medallion cut from a pork loin, weighing about 170 g. You can take other parts of pork or other meat in general.
Cut the meat into small pieces, salt and pepper.
Milk sauce is cooked in one pan. We take another frying pan and fry the pork in it in olive oil to the degree you like
When the meat is fried, add 130 g of rice to it and mix well so that all the rice rolls in oil and fries a little.
After that, add 100 ml of dry white wine or whatever you replace it with, such as apple juice, to the pant

When the wine has partially evaporated, partially absorbed, we begin to add hot salted broth to the pan in portions.
We are waiting for the portion of the broth to evaporate and be absorbed, add the next one. And so on until the rice is ready.
While the rice is cooking, grate 70 grams of Parmesan or other cheese on a fine grater.
Filter the finished milk sauce through a strainer.
And add the milk sauce to the pan when the rice is done
Then add grated Parmesan and a piece of butter to the risotto (optional).
Mix – and the milky-spicy risotto with meat is ready!
Bon Appetit and don't be afraid to experiment!
Also Like
Comments for "Milk-Spiced Risotto With Meat"