Oatmeal with Candied Fruit
by Editorial Staff
If you are tired of eating regular oatmeal for breakfast, then diversify this dish by adding candied fruits to it. Breakfast is prepared in just 10 minutes, and both adults and children will be happy to eat it.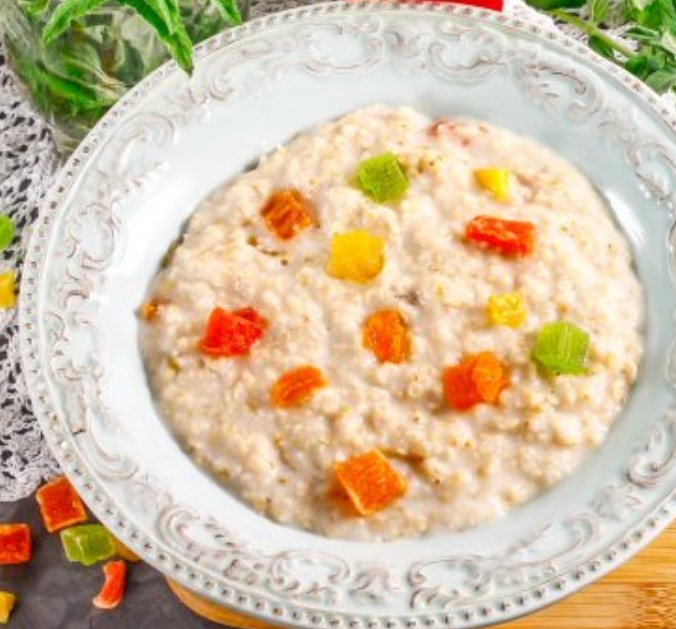 Cook: 10 mins
Servings: 1-2
Ingredients
Oatmeal – 150 Grams
Milk – 1 Glass (any fat content)
Sugar – 1 Teaspoon
Salt – 1 Pinch
Candied fruits – 120 grams
Directions
Prepare the indicated ingredients. When purchasing oatmeal, be sure to specify how long it takes to prepare it, and whether it requires cooking, or you can simply steam it.
Pour milk of any fat content into a saucepan or cauldron, place the container on the stove and bring to a boil. Oatmeal can also be cooked in water if desired.
As soon as the milk boils, add oatmeal, salt, sugar and stir. Boil for the amount of time indicated on the package. If the cereal is instant, then just close the pan with a lid and wait until it swells

Add candied fruits to the swollen oatmeal. You can also add butter – if desired, if the milk was not very fat.
Place the cooked porridge on plates and serve hot.
Bon appetit!
Also Like
Comments for "Oatmeal with Candied Fruit"