Omelet Sandwiches
by Editorial Staff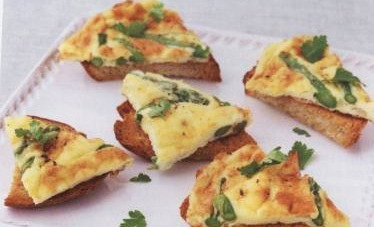 An omelet with onions and asparagus (or frittata, as the Italians call this dish) is a very tasty thing. Especially with crispy toasted bread.
Servings: 4
Ingredients
Olive oil – 4 tbsp
Bread – 4 slices
Garlic – 1 clove (peeled, whole)
Asparagus – 8 stalks
Onions, finely chopped – 2 tbsp
Eggs – 4 pcs.
Whipping cream, fatty – ½ cup
Grated Parmesan cheese – ½ cup
Sea salt, ground black pepper
Parsley – 1 small bunch
Directions
Preheat oven to 200 degrees. Pour 2 tablespoon into a baking sheet. l. oils. Arrange the bread slices and press lightly so that they absorb the butter from both sides. Toast the bread in the oven for 10-15 minutes. Rub with a clove of garlic and place on a wire rack.
Cook the asparagus in boiling salted water (1-3 minutes) to keep it bright green. Freshen in cold water and cut each stem in half lengthwise. Heat the remaining oil in a skillet and sauté the onions over low heat for about 5 minutes (until tender). Add the asparagus and cook for another 1-2 minutes.
Preheat the broiler (top of the oven) well. Whisk eggs with cream and cheese. Add salt, pepper, and scrambled eggs over the asparagus and onions. When the bottom of the omelet has "grabbed", tilt the pan so that the liquid portion of the glass is at the bottom. Cook for another 3-5 minutes. Finish cooking in the oven to brown the omelet on top.
Divide the finished omelet into pieces, place on toasted bread, and sprinkle with parsley.
Enjoy your meal!
Also Like
Comments for "Omelet Sandwiches"