Quiche with Red Onion and Feta Cheese
by Editorial Staff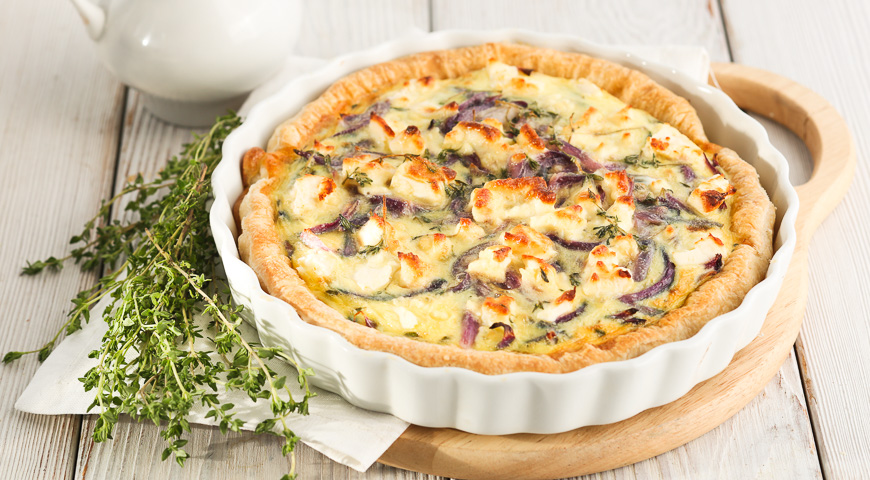 Actually, this quiche was meant to be like spinach pie. I really really wanted spinach pie. I made dough, peeled the onion, and found out that I had eaten all the spinach. I nearly fainted when I found a bag of frozen spinach in the freezer.
Cook: 1 hour 30 minutes
Servings: 12
Ingredients
250 g of puff yeast-free dough "Zvezdnoye"
4 red onions (about 800 g)
3 eggs
300 ml cream, 33-38% fat
Fresh thyme 5-6 branches or dried 1 teaspoon.
200 g feta cheese
2-3 tablespoon butter
½ teaspoon ground white pepper
1/2 teaspoon salt
Directions
Let the dough thaw at room temperature for 20-25 minutes. For baking, a round tart tin with a diameter of 22-24 cm or a rectangular tart of similar size is suitable.
Roll out the dough to the size of the mold. Place the dough in a mold, closing the bottom and sides, and cut off the excess by rolling a rolling pin along the sides. Chop with a fork and place in the freezer for at least 30 minutes.
Heat the oven to 220 C without convection. Remove the mold from the freezer and place it in the oven. Bake for 12-15 minutes, until the dough, begins to brown. Remove from oven. Reduce the temperature to 200C.

Cut the onion into feathers and fry in olive oil until transparent. Distribute evenly over the dough.
Crumble or cut the cheese into 1 cm cubes and spread evenly over the onions. Tear off the thyme leaves from the twigs. Shake eggs with cream, add thyme, salt, and pepper, stir and pour into a mold with onions and cheese.

Return the mold to the oven for 20-25 minutes, until the filling has set and is browned on top. Remove from oven and let cool for at least 15 minutes before cutting. Serve warm or cold.
Also Like
Comments for "Quiche with Red Onion and Feta Cheese"