Shrimp Scampi Linguine Recipe
by Editorial Staff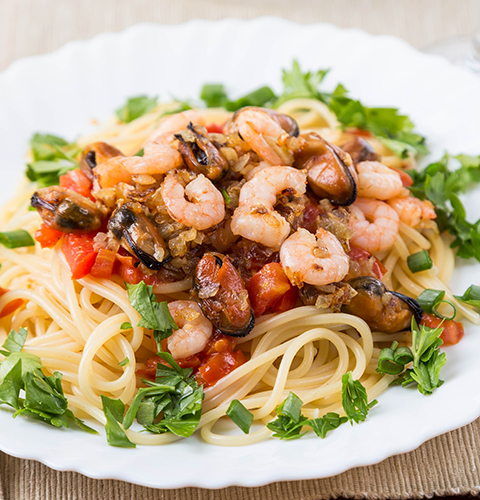 An excellent gift for Italian cuisine is linguini pasta, which is translated from Italian as "thin tongues". Actually, this subtlety and delicacy is the main character of the pasta – it is very delicate and surprisingly easily combines with any seasoning. And in a duet with seafood, piquant spices, and fresh herbs, it acquires an original taste that you want to return to!
Ingredients
Royal shrimps 16 pcs
Linguini paste 400 g
Olive oil 4 tablespoons
Garlic cloves 3 wedges
Cherry tomatoes 250 g
Parsley 3 sprigs
Fresh basil 3 sprigs
Lemon 1 pc
Instructions
Dip the pasta into a saucepan with boiling salted water and bring it to the al dente state (the pasta is already ready, but still firm, since it did not have time to boil).
While the pasta is cooking, pour the oil into the skillet and heat it over medium heat. Place finely chopped garlic in a skillet, stir quickly and add peeled shrimp. Fry over high heat for 2-3 minutes.
Reduce heat, place cherry tomatoes, cut in half, in the skillet, and cook for 1 minute. Then remove the skillet from heat.
Drain the linguine saucepan. Add fried shrimp with cherry tomatoes, finely chopped basil, parsley, and lemon juice to the pasta. Stir and leave for a few minutes to soak the resulting sauce.
Also Like
Comments for "Shrimp Scampi Linguine Recipe"