Seafood Linguine Recipe
by Editorial Staff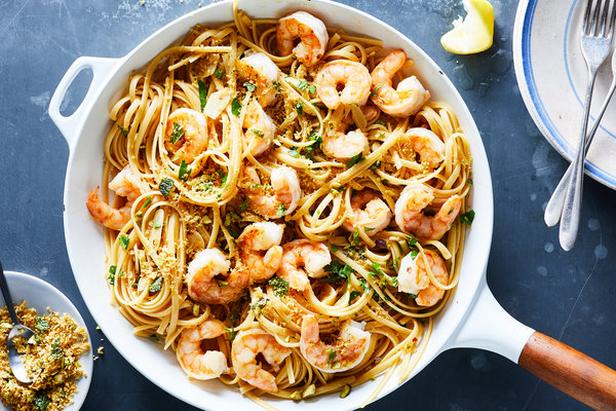 Italian linguini pasta is most often cooked with seafood, it goes especially well with fleshy elastic shrimp. Combine the boiled pasta with the shrimps fried with shallots and garlic, lemon juice and zest, fresh arugula and parsley, and drizzle with lemon-scented olive oil. To make the oil take on a citrus aroma, pour over the grated lemon zest and let it brew, then strain. Its flavor perfectly complements the shrimp and gives the whole dish a refreshing aftertaste.
Ingredients
Olive oil with lemon
0.5 tablespoon olive oil
Zest of 1 lemon
Pasta
450 gr. linguine pasta
2 tbsp olive oil
2 shallots, diced
2 garlic cloves, minced
450 gr. frozen shrimp
1/4 cup lemon juice (about 2 lemons)
Zest of 1 lemon
1 teaspoon. salt
0.5 teaspoon. ground black pepper
100 gr of arugula
1/4 tablespoon chopped parsley
Instructions
Olive oil with lemon: Combine olive oil and lemon zest in a small bowl and set aside.
Pasta: Bring the salted water to a boil in a large saucepan over high heat. Add the pasta and cook, stirring occasionally, until al dente, about 8-10 minutes. Drain the pasta, pouring separately 1 tablespoon.
Meanwhile, in a large heavy-bottomed skillet, heat the olive oil over medium-high heat. Add shallots and garlic and cook for 2 minutes. Add shrimp and cook until pink, about 5 minutes.
Add boiled linguine paste, lemon juice, lemon zest, salt, and black pepper. Stir. Turn off heat and stir in arugula. Strain the lemon oil through a sieve and stir into the paste. The zest can be thrown away.
Add a little cooking liquid to dilute the sauce to the desired consistency. Add chopped parsley and stir. Serve immediately.
Also Like
Comments for "Seafood Linguine Recipe"