Shrimp Linguine Recipe Easy
by Editorial Staff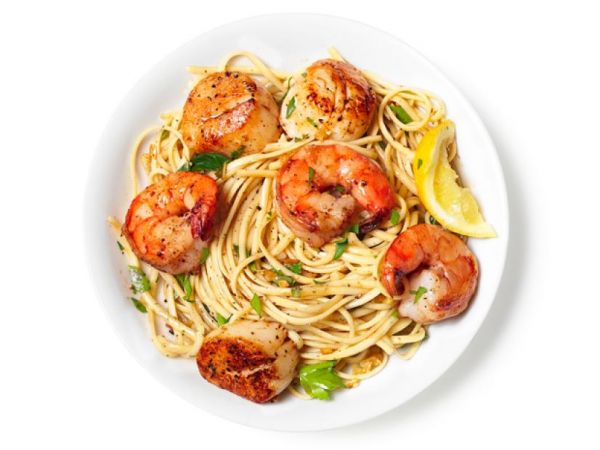 Flickering candles, a romantic atmosphere, and tender declarations of love will be remembered for a long time if your festive table is decorated with linguini – excellent Italian pasta with shrimps and scallops. Such a romantic dinner will inspire your loved one and your feelings will sparkle with new colors!
Ingredients
500 g linguine pasta
12 large shrimps, peeled
12 large scallops, peeled
100 ml dry white wine
50 g butter
50 g fresh basil (tear it into small pieces by hand)
20 g chopped fresh parsley
2 cloves of garlic, minced
2 tbsp freshly squeezed lemon juice plus lemon wedges for serving
Ground black pepper
Salt
Instructions
Pour water into a large saucepan, add salt and bring to a boil. Add linguini to boiling water and cook according to package directions.
At this time, heat a skillet over medium heat. Blot thoroughly washed giant prawns and scallops dry and season with salt and ground pepper. Add 20 g butter to the skillet and fry the shrimp on one side until golden brown, about 3 minutes. Turn the shrimp over and add half the minced garlic. Cook the seafood until the garlic flavors (about 2 minutes). Transfer the cooked shrimp to a plate.
Place the scallops in a preheated skillet and fry them on one side until golden brown, about 3 minutes. Flip the scallops, add the remaining minced garlic and cook for another 2 minutes. Pour lemon juice and white wine over the scallops, bring the aromatic mixture to a boil. Cook the scallops until the wine sauce is half evaporated, about 3 minutes. Add the shrimp, chopped basil, and remaining butter to the scallop skillet and season the seafood with salt and pepper.
Drain the pasta and transfer the finished linguine to a large serving platter. Toss the Italian pasta with fried shrimp, scallops and season with aromatic wine sauce. Garnish with seafood spaghetti with chopped parsley, lemon wedges, and serve for a festive romantic table!
Also Like
Comments for "Shrimp Linguine Recipe Easy"