Spiral Bread with Garlic and Herbs
by Editorial Staff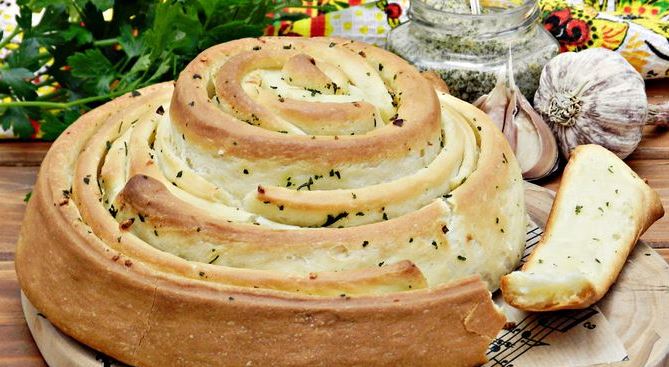 The fragrant bread with garlic and herbs has an unusual shape, which makes it very attractive. "Spiral" bread is obtained with a crispy crust and tender crumb.
Ingredients
For the test:
Milk – 100 ml
Water – 100 ml
Flour – 400 g
Dry yeast – 1 teaspoon
Sugar – 1 teaspoon
Salt – 1 teaspoon
Vegetable oil – 50 ml
For garlic oil:
Butter – 20 g
Garlic – 2 large cloves
Dried greens – 1 teaspoon
Salt (optional) – to taste
Directions
Pour the warmed milk and water into a bowl. Add vegetable oil, sugar, and salt. Mix. Mix flour with dry yeast. Add flour in portions to the bowl of liquid ingredients, stirring each time until smooth.

First, knead the dough with a whisk or fork. Then transfer to the table and knead the dough with your hands until smooth and homogeneous, about 10 minutes.
Roll the dough into a ball and send to a bowl. Cover with a towel or cling film. Remove the bowl of dough in a warm place for 1 hour. When the dough is right, knead it and leave for another 30 minutes for the second set.
Prepare an aromatic butter to grease the bread. To do this, add dried herbs and garlic, passed through a press, to the softened butter. You can add a little salt to the oil. Mix everything well.
Roll out the finished bread dough into a layer and grease it with fragrant butter. Cut the dough into strips about 5 cm wide. Roll the strips of dough into rolls, alternately winding one strip over the other.

Thus, roll up all the dough and send it to a baking sheet covered with parchment. Cover the bread with a towel and leave for 20-30 minutes for the third set. Then put the baking sheet in an oven preheated to 180 degrees. Bake the garlic bread in the oven for 25 minutes.
Put the finished "spiral" bread with garlic and herbs on the wire rack, cool slightly. At the table, it is advisable not to cut this bread, but to break off fragrant crispy pieces in a spiral.
Bon Appetit!
Also Like
Comments for "Spiral Bread with Garlic and Herbs"