Vegetable Salad with Mustard Dressing
by Editorial Staff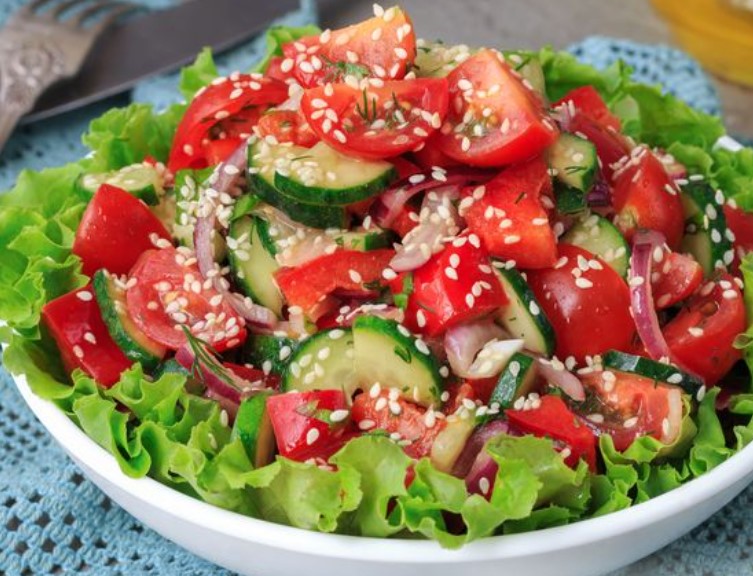 The zest of this salad is in the dressing, because the combination of tomatoes, cucumbers, onions and herbs has long become one of the classic options for vegetable salads. A spicy dressing of olive oil, lemon juice and mustard allows you to reveal the taste of familiar products in a new way and give the dish original notes. Try it!
Cook: 15 mins
Servings: 2
Ingredients
Bulgarian pepper – 240 g
Cherry tomatoes – 200 g
Cucumbers – 170 g
Red onion – 120 g
Lemon juice – 1-1.5 tbsp
Olive oil – 5 tbsp
Mustard – 1 teaspoon
Fresh dill – a few branches
Fresh parsley – a few twigs
Sesame – 10 g
For the marinade:
Water – 125 ml
Sugar – 1 teaspoon
Salt – 1 teaspoon
Directions
Prepare all the ingredients you need. Wash and dry lettuce leaves

Prepare the onion marinade. Boil 125 ml of water, add salt and sugar. Mix everything well until the salt and sugar are completely dissolved.
Peel the onion, cut into thin half rings, place in a hot marinade and leave for 10-12 minutes to soften its taste.
Prepare a dressing. Combine olive oil, 1 tablespoon. a spoonful of lemon juice, mustard and a few pinches of salt. Mix thoroughly until smooth.
Cut the bell peppers into small cubes. Cut the cucumbers into thin half rings or quarters. Cut the cherry tomatoes into 4 pieces. Chop the dill and parsley.
Place the chopped vegetables and herbs in a salad bowl. Strain the onion, squeeze lightly and add to the vegetables. Pour in the prepared dressing.
Mix everything well. Add sesame seeds and a little salt or lemon juice if desired. Save 1-2 pinches of sesame seeds for garnish

To serve, line the bottom of a serving plate with lettuce, add lettuce and sprinkle with 1-2 more pinches of sesame seeds.
Vegetable salad with mustard dressing is ready.
Bon Appetit!
Also Like
Comments for "Vegetable Salad with Mustard Dressing"