The Vietnamese capital, the city of Hanoi, is famous for its culinary delights and national cuisine.
The most popular traditional dishes are various chicken and meat soups. Buncha soup with noodles and beef is especially widespread among them.
Also, Hanoi tourists are given the opportunity to taste many different meat and fish dishes, seafood in cozy local cafes and restaurants.
Coffee shops in Hanoi

Where Can You Taste Authentic Vietnamese Cuisine in Hanoi?
In fact, the situation turned out to be twofold. It looks like cafes in Hanoi are almost around every corner, but if you look closely, you see that this is not a cafe where you would have a full meal, but coffee shops. It is a coffee shop in Hanoi a dime a dozen. Vietnamese coffee and pastries are plentiful. But buns are not enough for a full meal. This is just a light snack.
Areas of restaurants and cafe

Coffee shops in HanoiWhere Can You Taste Authentic Vietnamese Cuisine in Hanoi?
Throughout the city, you can find food outlets such as coffee shops, where everyone can taste unusual Vietnamese coffee and fresh pastries. However, in order to eat more densely and accumulate energy, it is worth going to the French Quarter of Hanoi.
This historical part of the city, located near the center, is attractive for travelers and tourists.
The lower price range for meals in small cozy cafes and neat eateries located in the central region of Hanoi, in particular, around Vietnam's famous Lake Returned Sword.
IMPORTANT! In the French Quarter, most of the restaurants are concentrated, the prices of which are quite high. However, with an average and higher budget, it is worth treating yourself to a high-quality and fresh national dish while traveling.
You should focus on your own preferences and anticipate all food costs, and then choose a place for a meal. So, the choice can be made in favor of:
expensive, but distinguished by the freshness and quality of products, restaurants;
a mid-priced cafe with a smaller selection of dishes;
cheap, cozy, but with a small list of dishes and not always distinguished by high-quality products, snack bars.
Restaurants in Hanoi

Areas of restaurants and cafeCoffee shops in HanoiWhere Can You Taste Authentic Vietnamese Cuisine in Hanoi?
Restaurants are concentrated mainly in the French Quarter. But a restaurant is not a cafe. The price tag is completely different, 2-3 times a day for two weeks you don't go to a restaurant.
It turns out to be some kind of vicious circle. There are a lot of things in Hanoi, but these are all cafeterias, eateries, where they sell unsightly baguettes, very ugly cafes for locals with low chairs on the side of the road, or restaurants with high prices.
Banh Mi

Restaurants in HanoiAreas of restaurants and cafeCoffee shops in HanoiWhere Can You Taste Authentic Vietnamese Cuisine in Hanoi?
An ordinary Vietnamese's morning does not begin with lobsters and squids. These are the eateries at every step in the city of Ho Chi Minh City, and before work, Vietnamese often stop to have a snack on the usual sandwiches – Banh Mi.
Banh Mi is a popular meat and vegetable baguette sold at every corner of town. They are very satisfying and quite interesting in taste. Many tourists buy them on their way to the beach. Therefore, once you see a tray with Banh Mi, try it.
Bun Cha

Banh MiRestaurants in HanoiAreas of restaurants and cafeCoffee shops in HanoiWhere Can You Taste Authentic Vietnamese Cuisine in Hanoi?
Bun Cha is a North Vietnamese Hanoi dish. This is a soup with meat and noodles. You can try it in a Vietnamese restaurant in the old quarter, which has a lot of positive reviews on Tripadvisor. There is hardly a soul in Hanoi during the daytime. But already in the late afternoon, the tables are filled with people and there are no empty seats.
Bun cha is beautiful to look at. The taste is unusual. A kind of sweet broth, a few pieces of meat, cutlets, and a bunch of rice noodles without any taste.
Fried Spring Roll

Bun ChaBanh MiRestaurants in HanoiAreas of restaurants and cafeCoffee shops in HanoiWhere Can You Taste Authentic Vietnamese Cuisine in Hanoi?
Another popular Vietnamese dish is the fried spring roll. Take the same roll and deep-fry it. The result is a crispy and light snack. Eat with sweet and sour sauce.
Vietnamese cuisine in Phan Thiet, Mui Ne
For lovers of seafood in the Phan Thiet area, in Mui Ne, there is an interesting place called Bo Ke with a huge number of Vietnamese open-air restaurants, about a kilo long. From 6 pm this street becomes very busy and filled with tourists. There are a lot of Russians among the visitors, so in front of each restaurant there is a counter with a menu and everywhere there is a menu in Russian. And the whole street is replete with signs and names in Russian, whether it is "Dima's Tourist Office", "Madame Anya" store, etc.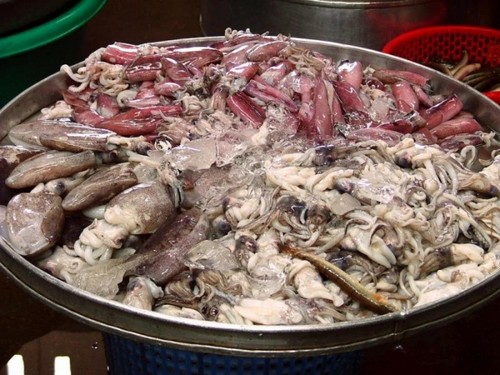 On Bo Ke Street, you can taste dishes of both European cuisine and Vietnamese cuisine, prepared in front of you from seafood that you yourself choose. Usually, these are scallops, shells, frogs, cuttlefish, squid, shrimps, lobsters, octopuses, snakes, turtles, sharks, ostrich, crocodile, vegetables, and herbs. Everything is tasty and fresh, seafood is most often live and in aquariums.
If you dare, you can order a cobra, the food of the Vietnamese emperors. Although, this is more of a tourist attraction, with an average cost of $ 100 (a Vietnamese's monthly salary). At the same time, a real show is arranged from the dish, in which you are the main character. In this show, all visitors of the Vietnamese cuisine restaurant have a free ticket, because they automatically become spectators. Two Vietnamese take the stage with a bag of live cobras. The spectacle is no longer for the faint of heart. Even the hiss of cobras can be heard. One of the Vietnamese pulls out a cobra, the other cuts its belly. Then he takes the heart and stomach out of the cobra, puts them in a glass. Another Vietnamese squeezes the blood of a cobra into a glass and invites you to taste it. When you drink blood, the rest of the restaurant customers start to applaud you. Moreover, the Vietnamese themselves are stunned at you with all this process. Then the Vietnamese take the cobra away and prepare Vietnamese dishes from it – cobra skin soup and fry its meat.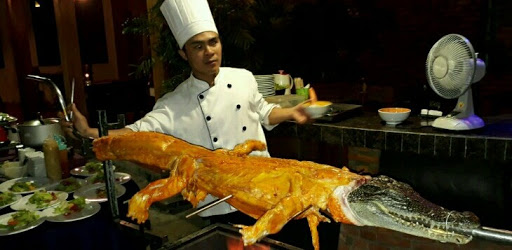 If you wish, you can order a crocodile, here its meat is very common.
A great option to try a huge amount of seafood in Vietnam is to visit the unlimited buffet. Such establishments are very popular among locals and now also among tourists.
Also Like