Vietnamese cuisine is a mixture of Chinese, Indian, French, and other traditions, while remaining completely unique and distinctive.
The choice of dishes is quite varied, and the prices in restaurants and cafes are very reasonable and affordable. Vietnamese cuisine is believed to be the cheapest in the world, not because it is made with simple ingredients, but because the food is cheap. In addition to traditional Vietnamese dishes, Thai, Indian, Indonesian, Chinese, and other Asian cuisines are widely represented here.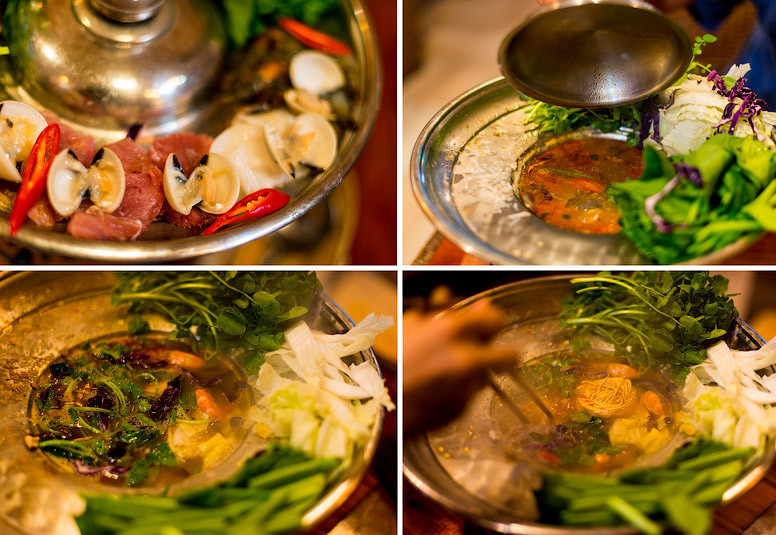 Seafood dishes

Seafood dishes are common here, but there is also a large selection of pork, beef, and chicken dishes. Vietnamese eat everything, without any restrictions or prohibitions. Special delicacies are snakes, turtles, rats, and game dishes. In tourist resorts in the menu of some restaurants, you can try ostrich, crocodile, python, frog, dog meat. Many people believe that insects are eaten in Vietnam. This is not true. For insects, you need to go to neighboring Cambodia or Thailand.
Eating in Vietnam is considered a collective event, therefore, individual dishes are served on the table on a common plate, from which the meal mates take out pieces with chopsticks. But don't worry, this rule does not usually apply to Europeans when serving in restaurants.
Unlike the cuisines of neighboring Asian countries, Vietnamese dishes are not spicy and will suit everyone's taste. Nevertheless, for all its tempting, it is better to exercise caution when eating national Vietnamese food on an unaccustomed stomach during the first days of stay in this country. Any restaurants and cafes offer European cuisine.
Rice

Rice is the cornerstone of Vietnamese cuisine. There are dozens of types of it, ranging from ordinary (familiar to us) and ending with sticky, or quite exotic black or red rice. This is not surprising, since Vietnam is the second-largest rice cultivator and exporter in the world after Thailand. No Vietnamese meal is complete with a cup of rice.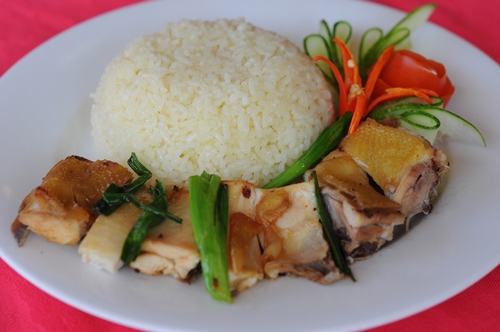 Noodles

The second most popular dish is rice noodles, although egg noodles are also found, but much less often. Noodles can be thick or thin. It is added to the most popular Vietnamese Pho soup, as well as fried with vegetables or meat.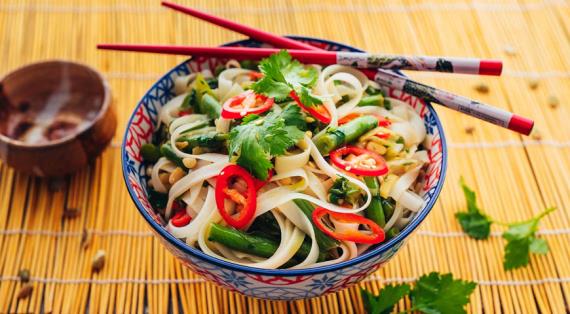 As for dairy products, they can only be bought in stores. The Vietnamese themselves do not read them. Instead, tofu is very popular and is often added to dishes.
Not a single meal is complete without vegetables and herbs. They are added everywhere, both in an already prepared dish and in addition to the main one. A set of vegetables and herbs: potatoes, tomatoes, cucumbers, beans, cabbage, peppers, onions, parsley, cilantro, basil, mint, etc. Vietnamese cuisine owes its specific aromas to plants: lemongrass, mint, and many others. Chinese garlic and onion spices, fresh ginger roots, and soy sauce are all common in Vietnamese cuisine.
Vietnamese cuisine may even seem a little bland or too sweet; you will often have to add some salt to everything. Fortunately, for this, there is always fish or soy sauce on the tables of cafes and restaurants (pure salt is almost never found), and you can add salt to the dish yourself. Here is some popular traditional Vietnamese food to try:
Rice with chicken, pork, vegetables, or an egg is the cheapest and most common dish to satisfy your hunger. It is simply rice mixed with the chosen filler (chicken, etc.) and vegetables, sometimes slightly toasted in a wok. Such a dish costs 30,000 dongs and is served almost everywhere. If you just need to eat inexpensively, then choose it.
Pho is the most popular dish among the Vietnamese. It is a soup with beef (pork, chicken), rice noodles, sprouts, and herbs. Pho is most commonly eaten for breakfast, although many people eat it for lunch or dinner. The way it is prepared can be different, but ultimately, when the dish is served, its smell and taste are unique. Necessarily for at least one-time use by tourists, although it is not a fact that everyone will be delighted with it.
Spring rolls or Nem is a very popular and tasty dish. Despite its Chinese origin, it has been an integral part of Vietnamese cuisine for centuries. These are fried vegetables and glass (rice) noodles wrapped in a pancake made of rice flour. Chopped meat or seafood is added to the filling if desired. Then the finished roll is deep-fried. There is an option for vegetarians - the so-called Fresh rolls - in this case, the rolls are not fried. The rolls are usually served with spicy, sweet, or sour fish sauce. Keep in mind, however, that some restaurants called spring rolls serve fried homemade sausages, which is a completely different dish.
Chao or Tiao is a thick rice porridge most often served with finely chopped pieces of chicken or beef. White rice and water are mixed and then boiled until the rice are soft and soft, turning into chao (porridge). Then nyok mam (fish sauce) and lemongrass are added there for taste. Chao is served hot. It is also a great remedy for indigestion!
Boone - rice flour vermicelli. Vermicelli is made from rice flour by making small, round white threads, which are then rolled into small rolls called con bun (skeins of rice vermicelli). There are many ways to make rice noodles and each dish has its own unique flavor. The buncha is made with grilled pork, while the bunhok includes river snails. And finally, bunbo, which is made with beef.
Banh com is one of the favorite Vietnamese desserts that can be found everywhere. They are a kind of sweet pastry made from glutinous rice, peas, and coke shavings, wrapped in banana leaves.
Also Like