Hungarian cuisine is fragrant, always very tender and piquant in taste, hot dishes, delicious pastries. We will tell you what every tourist should try in Budapest. Stews, juicy vegetables, rich soups, gourmet snacks, desserts worthy of royal blood. Hungarians are really capable of surprising and feeding anyone. We have compiled a list of 10 dishes with photos and descriptions so that you know exactly what to look out for first.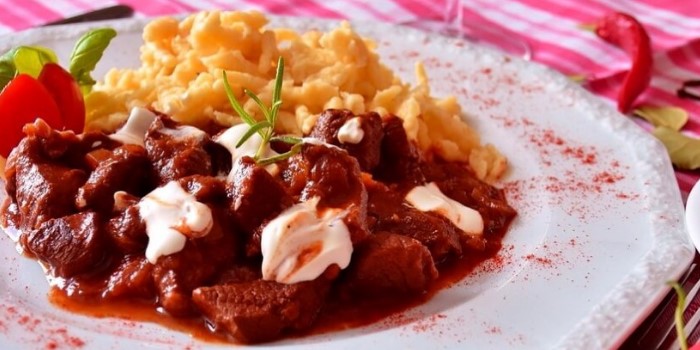 Gulyás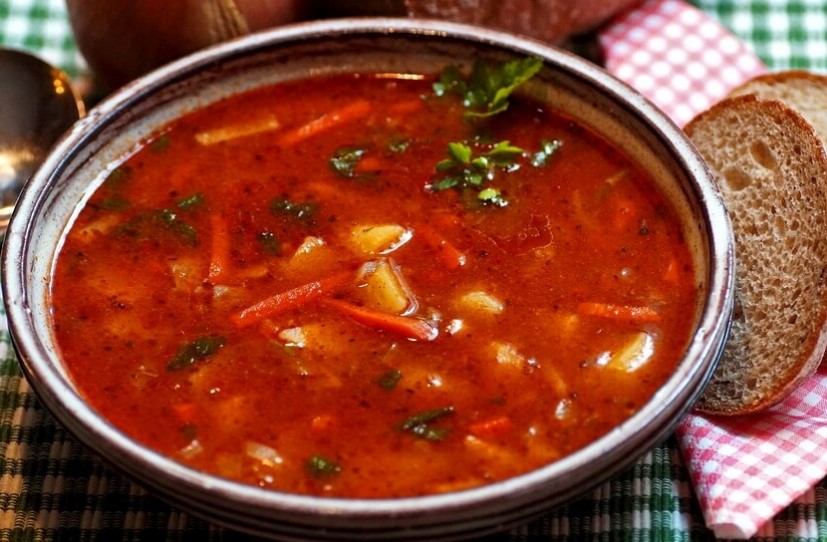 This is the first thing to eat in Hungary. Not a soup anymore, but not yet a second dish: rich, hearty, really tasty. Pieces of veal are fried with bacon and onions until golden brown. To them are added fried potatoes, juicy tomatoes, broth with aromatic paprika. Be sure to order this dish in one of the restaurants in Budapest, it's worth it.
Lecsó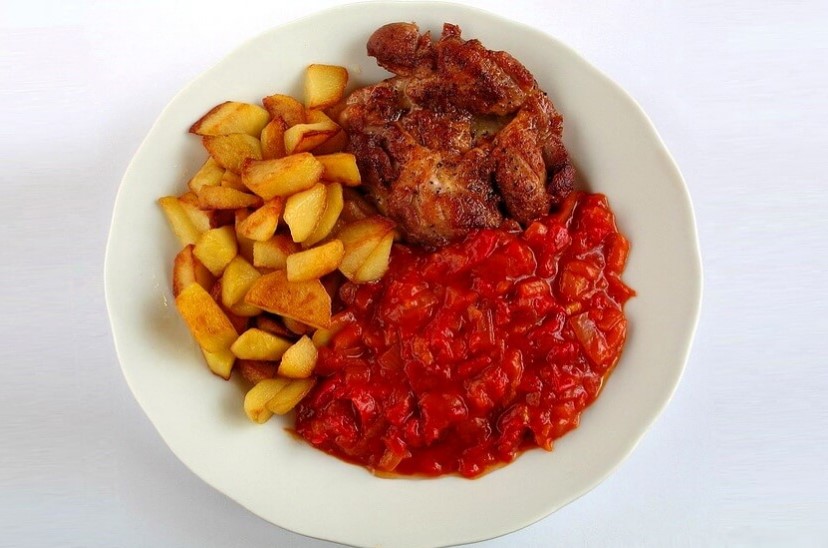 There are dozens of recipes for Hungarian lecso, and each option is good in its own way. None of them are complete without ripe tomatoes, sweet peppers, juicy onions, and, of course, paprika. In Hungary, it is customary to serve lecso as a separate dish, although tourists prefer to order it as a side dish for meat and potatoes. Be sure to try lecsó kolbász, which features mouth-watering smoked pork sausages. Eat lecso like Hungarians: take a fresh crumb of white bread to it and dip it constantly in the sauce.
Pörkölt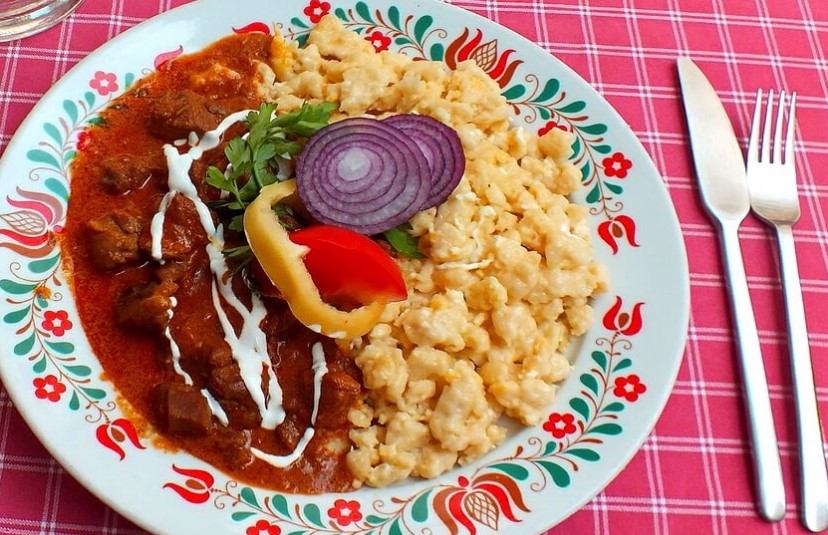 Connoisseurs of meat should definitely try this Hungarian dish. Fragrant, incredibly tasty, hearty at home – it just melts in your mouth. The pork, separated from the bone, is first lightly fried and then simmered in a sauce of sweet Hungarian wigs, onions, garlic, and peppers. Sometimes chicken or beef is cooked instead of pork, but it's better to try the classics. Pop into a diner or restaurant in Budapest and order a pörkölt garnished with tarhonya (traditional Hungarian pasta with an interesting flavor). You'll like it!
Paprikás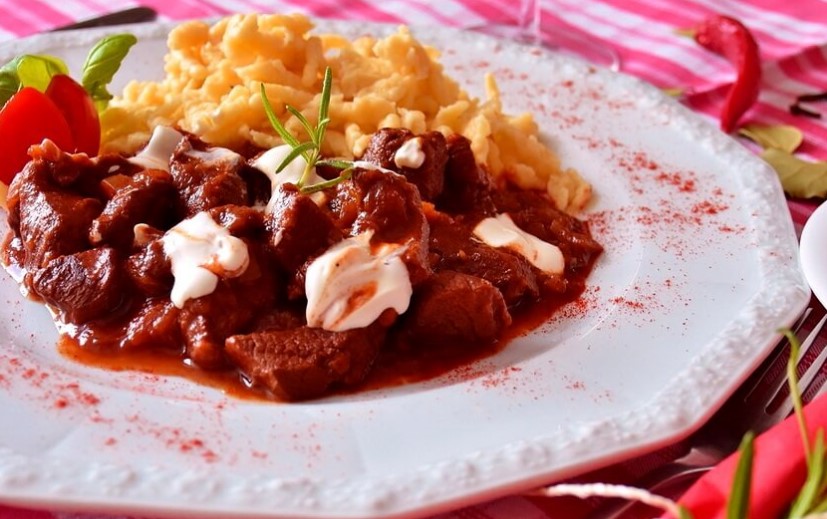 The most popular Hungarian dish that can conquer from the very first spoon. The most popular option is paprikás csirke (chicken paprikash). It is with him that you need to start tasting. The chicken is fried until deliciously golden brown. Do the same with juicy bell peppers, onions, and garlic. All this is mixed and left to simmer in chicken broth with sweet paprika until the meat becomes very tender, having absorbed all the vegetable juices. After that, the dish is poured with warm sour cream. How not to try paprikash, the aroma of which is in the air on the streets of Budapest? Be sure to order it with tarhonya, young potatoes, or a bun of fresh bread.
Fatányéros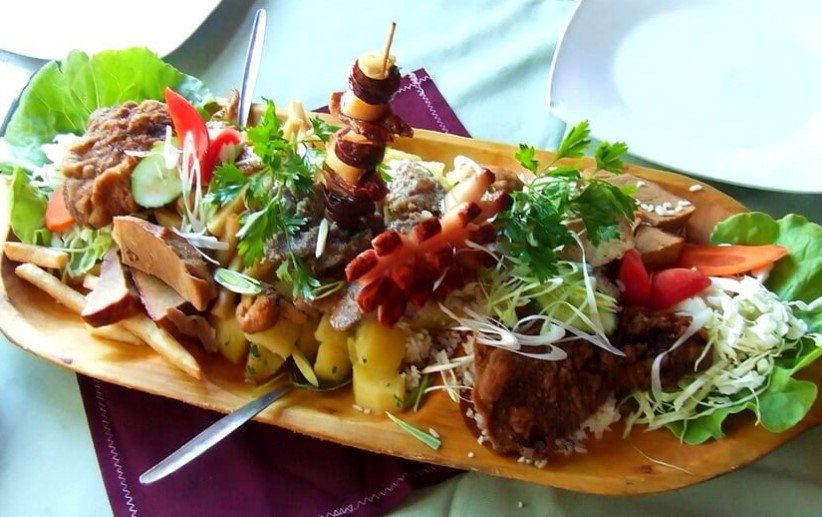 Connoisseurs of meat will definitely appreciate this dish. Be sure to order it in one of the restaurants in Budapest (it is better to take it for two – the snack is very large). Fatányéros is always served on a wooden plate of the same name. Slices of veal roasted on charcoal until golden brown, tender goose liver, and excellent smoked bacon – all this is served with crispy potatoes and vegetable salad. This is indeed a very appetizing, and most importantly, incredibly tasty Hungarian dish.
Debrecínské Párky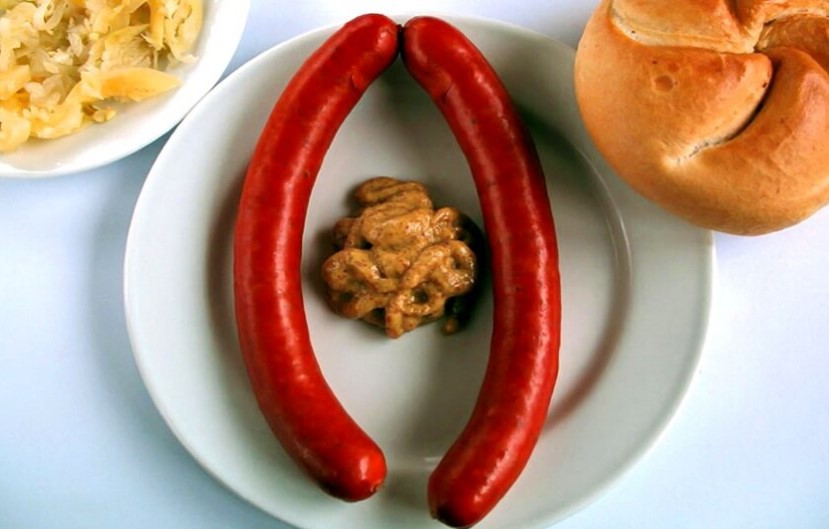 Juicy, aromatic, spicy – these sausages are a must-try in Hungary. Their composition is really good: natural casing, beef, pork, paprika. They are smoked, but only slightly, so they remain juicy, soft, tender inside. Debrecen sausages are popular street food in Budapest, Debrecen (of course), and other cities in the country. They should be eaten with mustard and any bun to muffle the natural fat content. Hungarian paprika sausages are often used to prepare national dishes (for example, they are part of Debrecen goulash). In this form, they are no less good.
Halászlé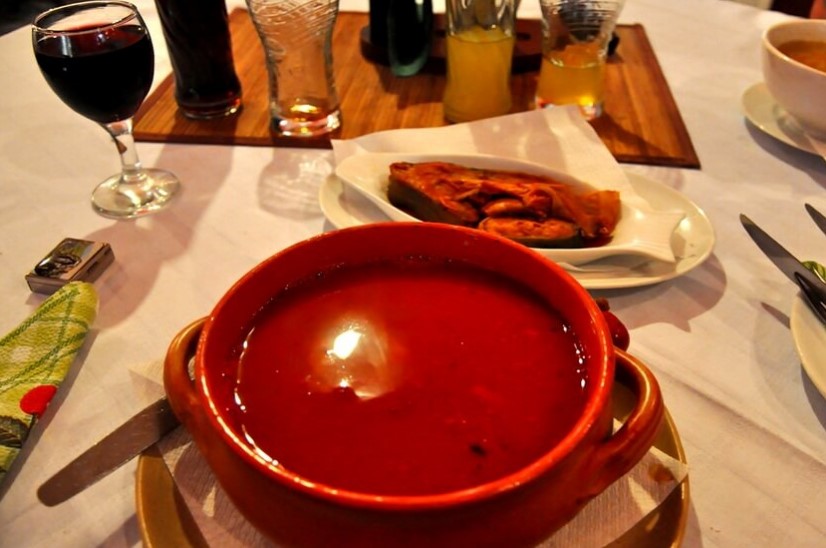 The most popular Hungarian fish dish. It looks delicious, it smells incredible, and even better to try. Halászlé is a tomato fish soup with a very unusual taste. Just imagine the taste of the broth, for which pieces of fish are fried with onions in lard with paprika, and then poured with tomato juice and simmered until the mass becomes homogeneous. This broth is filtered, and then large pieces of noble fish are added to it and brought to readiness. This soup in Budapest has become a real hit among tourists – try it!
Lángos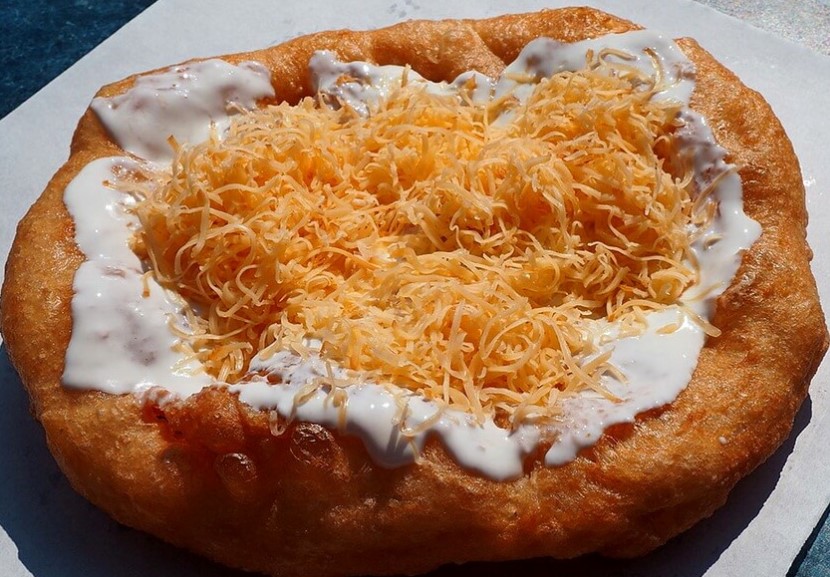 Very popular street food in Budapest that every tourist should try. The dish, of course, is not very healthy, but very tasty. Lángos is a deep-fried round yeast cake generously flavored with garlic sauce, grated cheese, and sometimes paprika. It is easiest to buy it at Christmas markets or during national holidays. In everyday life, lángos are sold in small shops in the squares as well as city eateries.
Dobostorta( Cake "Dobos")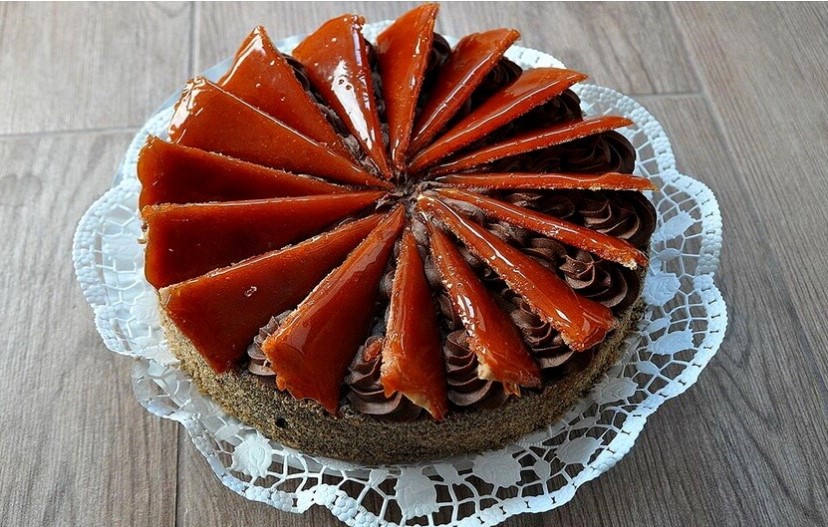 Of the sweets in Budapest, the first thing to try is the legendary Hungarian cake named after its author, the famous pastry chef József Dobos. The classic dobostorta is six thin layers of sponge cake with a chocolate layer and a glossy caramel icing on top. Today, many cafes throughout Hungary still bake "Dobos" according to the traditional recipe.
Kürtőskalács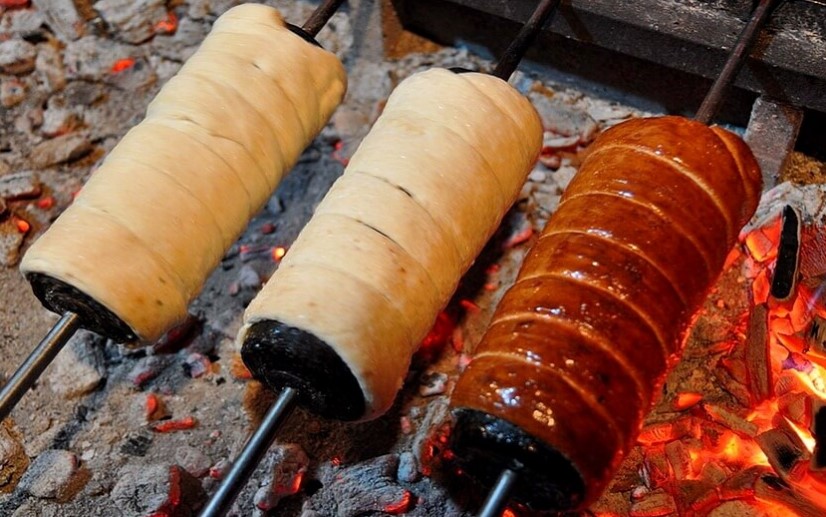 This mouth-watering street food in Budapest is a must-see at every fair, as well as near popular tourist spots. You can also find a dish in bakeries or cafes – Hungarians also love these delicious tubules. They are baked on skewers over an open fire. Ready-made hot tubules are so soft and aromatic that they are delicious to eat even without fillers (a sprinkle of cinnamon sugar is enough). But it's just as great to fill them with chocolate, ice cream, whipped cream, or whatever.
Also Like